Do you wish you could be more tech savvy but it just seems so difficult, or overwhelming? Do you have the latest iPhone or computer but don't feel like you know your way around it like you could? If so, you've come to the right place! Here on German Pearls you'll find step by step tutorials and videos which will teach you about different tech subjects and tasks. The best part, we'll break it all down in plain English…no complex tech jargon!
On German Pearls you'll find tips and tricks for using your iPhone, iPad, computer and the internet in general. We'll also walk through some basic functions in programs like Microsoft Office (Word, Excel, Powerpoint, Access, etc). The best part? If you don't find what you're looking for just contact us and we'd love to help! If you have the question, chances are someone else does too.
About Amy
My background, from my family's influence to my Engineering degree to my personal hobbies, has always involved computers and the latest tech gadgets. Though some of my computer knowledge comes from formal training and education, a lot of it I've learned on my own. I enjoy being a resource for friends and family in answering their tech questions. Building on that, I decided to create German Pearls, a place people could come to find answers to their questions – or ask new ones!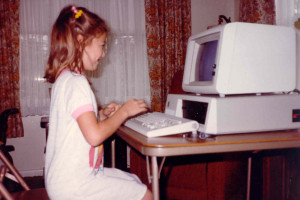 Amy sitting at our first family computer, an IBM PS2
What does German Pearls Mean?
With a German ancestry my vision for German Pearls encompasses what I view as my most stereotypical German traits: technical, organized, efficient and frugal. The industry in which I work uses "pearls" frequently as a term to mean tips, tricks and bits of advise. Here on German Pearls I hope to pass on tips, tricks and bits of advise about using technology to be more efficient, organized and frugal.
Need Some Help?
If you have a tech problem or question feel free to drop me an email and I'll try to help. If you're looking for a custom spreadsheet or database solution I can help with that as well. I've been making custom spreadsheets, database and web applications for years. Check out my services page to see how I may be able to help.
Where to Begin?
We hope you'll find that these tutorials make your life better in some small way. We'd love for you to subscribe so you don't miss any good tips (we never share emails so don't worry about spam).


Looking for a place to begin? Simply browse the menus above, search for your favorite topic in the search bar above or check out these popular posts on the blog:
Thanks for stopping by!
Save