Here is a running list of tech deals on products, software and gadgets that you may be interested in. As I come across these deals I'll keep this page updated so check back often. Or, if you'd like to be alerted each time I find a new tech deal, subscribe to the German Pearls tech deals newsletter below:

Note: This page may contain affiliate links.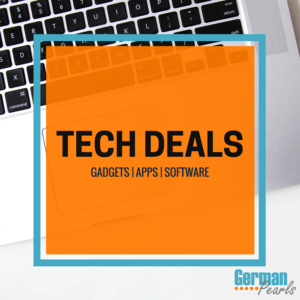 Active Tech Deals
Amazon Prime Day
Prime Day is one day in July that Amazon celebrates by offering tons of specials and lightning deals. Most deals are only available for Amazon Prime members so if you're not a member you may want to sign up for your Prime membership first. (Note, if you're a student, use this link to get 50% off a student membership!)
Here's a running list of Amazon Prime Day deals I like:
There are so many more but I just can't keep up…check them all out on this page. Have fun and let me know what deals you find!
Great Deal on the Nest 3rd Generation WiFi Thermostat
I love our Nest Thermostat! These usually run $299 but Amazon has it for a great deal right now at $219. Also, check your local power company – mine offered a $75 rebate for a WiFi thermostat. So you save in energy costs, the energy company thanks you with a rebate and you get the comfort of checking your house temperature when you're away from home. It's awesome – check it out here!
Eset AntiVirus Software
 AWESOME DEAL – Microsoft Office 365
Microsoft is selling a 1-year subscription to Microsoft Office 365 on Amazon right now for $58! This is a great deal! Even if you don't need a subscription now you can pick it up and use it to extend your current subscription for 12 months. It's hard to find deals on Office so I try to grab them when they come along.
Carbonite Backup Service 50% Off!!!
This is an awesome deal that doesn't come around often. You can backup your computer files (precious photos, data and more) manually. But, if you're not that tech savvy, or if you're not disciplined enough to do it regularly, Carbonite's backup service is an awesome way to go and right now it's at an awesome price!
Duet App
If you want to boost productivity using a dual display is a great way to do it. Don't have a second computer monitor? Use your iPad as a second monitor for your PC or Mac with the Duet app. It works great and it's HALF OFF FOR A LIMITED TIME! (I haven't paid for many apps but I definitely purchased this one…and it's been worth every penny.)
 Xero Cloud Accounting Software for Small Businesses
---
Recently Expired Deals
Here are some recently expired deals so you can get an idea of the discounts that have been available.
Build your Own Mac App Bundle – SOLD OUT
Kapersky Anti-Virus and Internet Security Products up to 50% Off
Click here to get 50% Kapersky products! I haven't worked with Kapersky but have heard good reviews like this one at PC Mag where they gave it their coveted Editor's Choice rating.
Stack Social – Misc Software and Tech Deals – ** SOLD OUT **
Stack Social is a site that has different kinds of software and tech deals. They rotate constantly so you may want to stop by and check them out.