Do you wish you could be more tech savvy but it just seems so difficult, or overwhelming? Let German Pearls help!
Do you have the latest iPhone or computer but don't feel like you know your way around it as well as you would like to?
If so, you've come to the right place!
Here on German Pearls, you'll find step by step tutorials and videos which will teach you about different tech subjects and tasks. The best part, we'll break it all down in plain English…no complex tech jargon!
On German Pearls you'll find tips and tricks for using your iPhone, iPad, computer and the internet in general. We'll also walk through some basic functions in programs like Microsoft Office (Word, Excel, Powerpoint, Access, etc).
The best part?
If you don't find what you're looking for just contact us and we'd love to help! If you have the question, chances are someone else does too.
About Amy
My background, from my family's influence to my Engineering degree to my personal hobbies, has always involved computers and the latest tech gadgets. Though some of my computer knowledge comes from formal training and education, a lot of it I've learned on my own.
I enjoy being a resource for friends and family when they have tech questions. Building on that, I decided to create German Pearls, a place people could come to find answers to their questions…or ask new ones!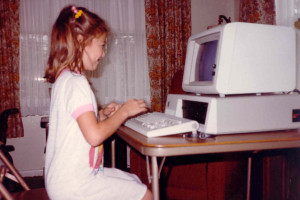 Amy sitting at our first family computer, an IBM PS2
Amy's Qualifications
BS in Chemical Engineering
20+ years in designing and developing Microsoft Excel Spreadsheets
20 years experience in developing Microsoft Access Databases
Six Sigma Black Belt (trained and certified by Honeywell)
Used Excel, Access, Websites and other tech tools to help manufacturing and distribution companies save tens of thousands of dollars by reducing inventory losses, improving yields, increasing utilizations, implementing corrective actions and more
What does "German Pearls" Mean?
With a German ancestry, my vision for German Pearls encompasses what I view as my most stereotypical German traits: being technical, organized, efficient and frugal.
The industry in which I work uses the term "pearls" frequently as a term to mean tips, tricks and bits of advice.
Here on German Pearls I hope to pass on tips, tricks and bits of advice (aka Pearls) about using technology to be more efficient, organized and frugal.
Need Some Help?
If you have a tech question or project, you've come to the right place!  I'd love to help you with:
Tech Questions – Stumped with how to make your latest gadget or phone work the way you want it to? Trying to figure out an easier solution to what you want to accomplish? If you have a tech problem or question feel free to drop me an email and I'll try to help.
Web Design, Website Maintenance and Support – Are you a small business looking to have a web presence? Or, do you have an existing site but have no idea how to modify or maintain it? Let me help. I provide affordable web design and website maintenance solutions for individuals and small businesses. See the services page at our sister company, Logically Tech, for more information.
Where to Begin?
If you're not looking for any specific support but would like to browse our articles head to the German Pearls homepage for a overview of our latest tutorials and the topics we cover.  Or, continue reading for a list of some of the popular posts on the blog. We hope you'll find that these tutorials make your life better in some small way.
We'd love for you to subscribe to our newsletter so you don't miss any good tips (we never share emails so don't worry about spam).
Looking for a place to begin? Simply browse the menus above, search for your favorite topic in the search bar above or check out these popular posts on the blog:
Thanks for stopping by!
Amy
Save