I just found the best grocery list app for my iPhone! The app we were using was working. But, since switching to this shopping list app I've become better at remembering to add items to the list and I'm way more efficient in the grocery store!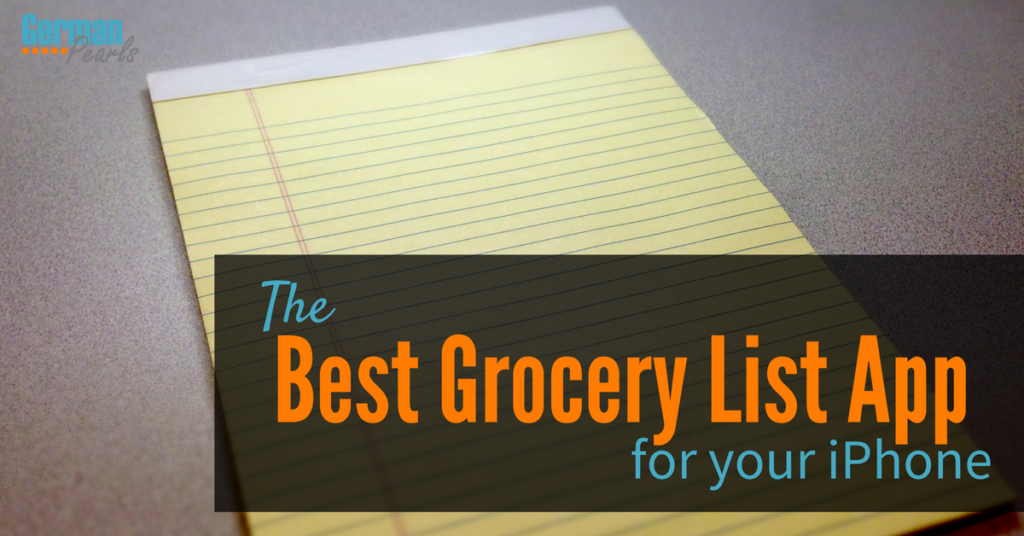 Note: This post may contain affiliate links.
The Best iPhone Grocery List App
The app I recently fell in love with? AnyList. This app has it all. You can add items to your shopping list easily, share lists with others and the app makes shopping a breeze. Here are some of the features that I like best about this grocery shopping app:
Share Your Grocery List with Others
First and foremost, I need a grocery list app that lets you share your shopping list with other family members.  The previous shopping list app we were using allowed my husband and I to add and remove items from a shared list. If he realized we needed bananas, he could add them to the list on his iPhone. If I finished the last of the milk, I could add that using my iPhone's app. In both cases, our shared list would include the items we each added. This is key in a grocery list app and AnyList has sharing capabilities.
With AnyList, you can create multiple lists and set sharing options for each list individually.  So, you could share your grocery list with your spouse and create a separate shopping list to share with your friend you're planning a party with.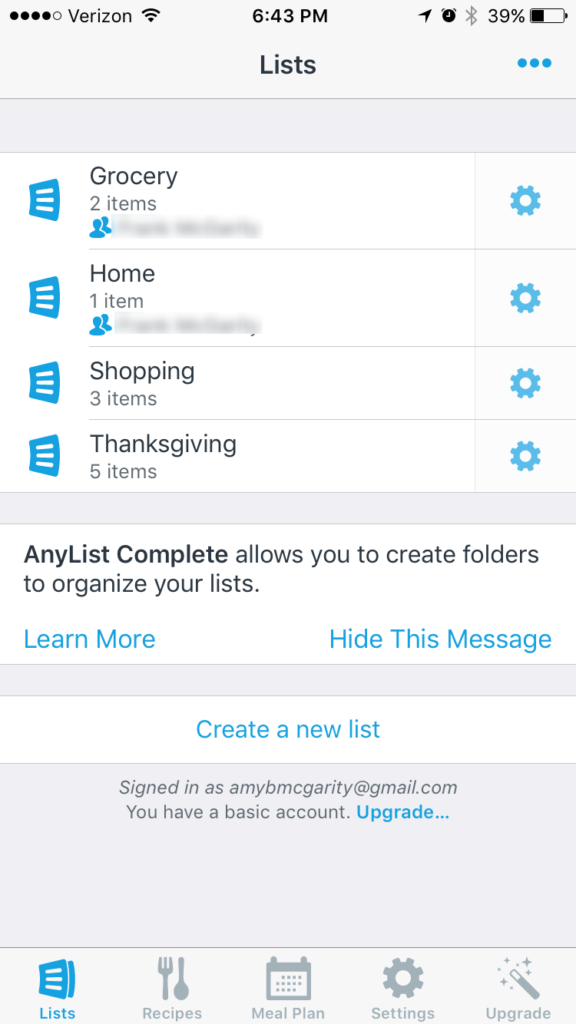 Add Items to Your Grocery List with Siri
An AnyList feature that wasn't available on my previous grocery list app is the ability to add items using Siri. Siri can help you do so many things (click here to get a list of ways you should be using Siri).
Do you know those moments when you're busy with life and you suddenly remember something you have to do? Those are the times when I think Siri is most helpful. This is definitely the case with AnyList.  Those moments often happen when I'm falling asleep, in the shower or driving…the exact times I don't feel like picking up my phone, unlocking it, finding my grocery list app, opening it and typing in what I suddenly remembered we needed. I know, all of this would take about 10 seconds but for some reason all these steps stop me from doing it. I always think, "I'll add it later". Then, inevitably, I forget. Now, since I can add items to the AnyList grocery list with Siri, I don't procrastinate. If I'm in the middle of cooking and realize I just ran out of soy sauce, I simply walk to my phone, hit the button, say "add soy sauce to my grocery list" and continue cooking.
The ability to add items to my shopping list with Siri makes me use the grocery list app more consistently, which makes it work better. 🙂 It's such a simple change that I'm amazed it's helping me so much.
AnyList Organizes your Grocery List
Another ingenious feature of AnyList is the way it categorizes what you add to your grocery list. So, you're going along your day and you remember you need apples, you add them to your list. Later on you run out of milk and add it. At lunch you eat the last banana and use Siri to add it to your grocery list. Now with most grocery list apps when you open the app you'd see:
But, AnyList assigns categories to your items so when you open the AnyList app while shopping, you'll see: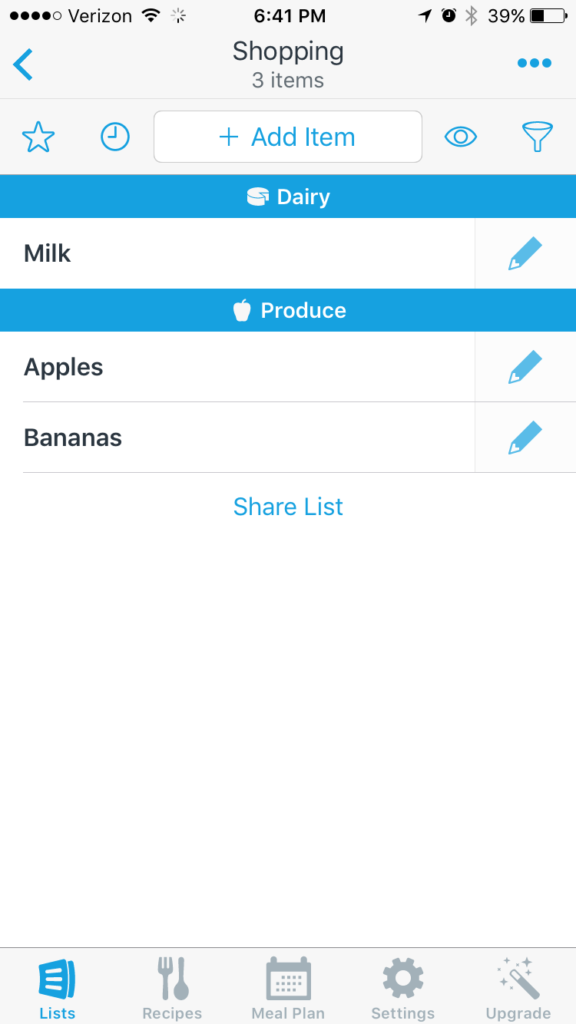 AnyList automatically adds a lot of different items to the appropriate category. But, you can always change the default categories. And, for those uncommon items that you use that don't default to any category, simply assign a default category for these. This category will appear each time you add the item to your shopping list.
For me that means no more back and forth across the store for things I forgot or standing in the middle of the store staring at my phone trying to see if I got everything I needed from a particular section.
AnyList Helps you Streamline your Shopping
But, as if categories weren't cool enough, AnyList takes it one step further and lets you rearrange the order of the categories. So, if you're like me and have a good idea where everything is located in your go-to grocery store, you can set the order of the categories to correspond to the way you walk through the store. In my store I first walk through dairy, then cleaning supplies, then cereals, then canned goods, and so on. I've rearranged the categories in AnyList so they appear in that order. Now when I go to the store I'm way more efficient! I pretty much can start at the top of the list and work my way down.
As I'm shopping I simply tap on the item to cross it off. I can opt to have the crossed off items still show up or have them disappear as I cross them off. I have it so they disappear and it's great to see my list get smaller and smaller as I finish my shopping.
Conclusion
The features built in to AnyList seem so basic yet I've seen them missing from other grocery list apps. While the features are all pretty simply it's amazing how much more efficient I feel when using AnyList to create my shopping list and grocery shop.
There are way more features to AnyList than we've touched on in this post (ie: ability to include recipes and meal plans and tie them back into your grocery list) but hopefully we've given you a good enough snapshot to give it a try. It is, after all, a free app. 🙂 So, head on over to the app store and check it out. After you do, let us know what you think? We'd love to hear your feedback!
Save