Want to lower your monthly Spectrum cable bill? If you still have a cable bill there's no doubt you'd like to reduce it. Our bill likes to creep up slowly…as if we don't notice it! Well, recently we discovered a way to eliminate one of the items on our bill, saving us about $10 a month on our cable television bill. We're using Time Warner Cable (now Spectrum) but if you're using another provider look into this option – it could work for you too!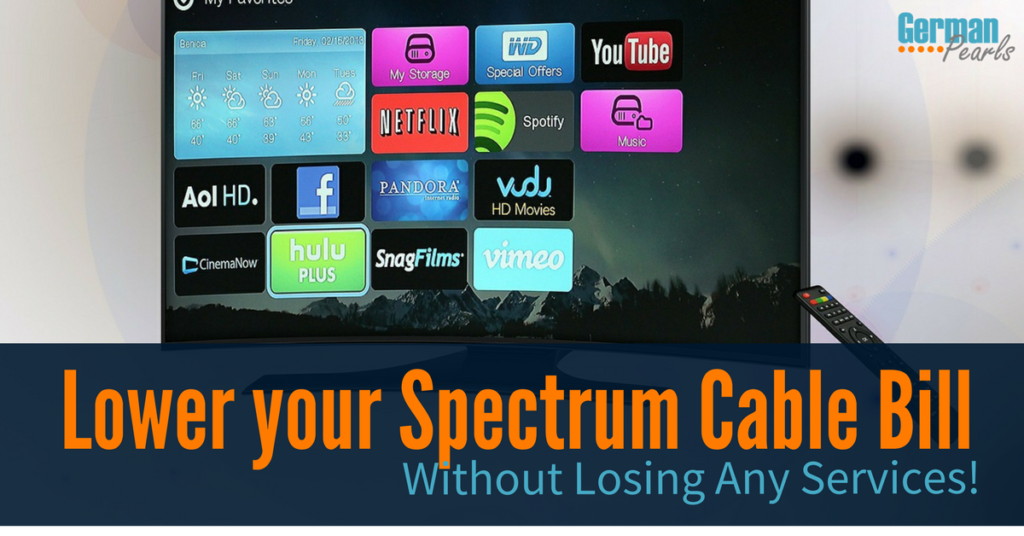 Note: This post may contain affiliate links.
The Time Warner Cable App (Spectrum App)
Did you know Spectrum has an app? We're going to go over some basics about the app first then show you how you can use it to save you money on your monthly Spectrum cable bill.
How to Get Rid of your Monthly Telephone Bill (But Still Have a Landline!)
What does the Spectrum App Do?
There are several things you can do with the Spectrum app such as: set your DVR, check what's playing, search for when your favorite show is on, control your cable box, etc. In addition, you can actually watch TV in the Spectrum app.
What TV can you Watch in the app?
If you're at home, connected to your Spectrum internet, you can open the app on your phone or tablet and watch all the same channels you watch on your own TV!
Which Devices Can Get the Spectrum App?
The Spectrum App is available for:
How to Save Money on your Monthly Cable Bill
Ok, Spectrum has an app. But how does that save me money on a monthly cable bill? Here's how:
Use the app to watch Spectrum cable on your TV
Return the cable box to Spectrum to remove the monthly rental fee for each cable box!
How to Watch Free Movies Online
How to Use the Spectrum App to Save on your Spectrum Cable Bill
How many cable boxes do you have in your house? We had one in our living room and another in our finished basement so we could get all the channels (in HD) in the basement. But, each box was costing us over $10 each month on our cable bill.
We figured if we could return one of the boxes we'd save over $120 each year on our Spectrum cable bill. And that's just what we did.
We picked up an inexpensive Roku streaming stick, connected it into the HDMI port in the back of our TV in the basement, signed into the Spectrum app that was on the Roku stick and starting watching all the same Spectrum channels we were getting from our old cable box.
We returned the extra cable box to Spectrum and over $10 dropped off our bill each month. The Roku stick was less than $40 so we'll save $80 in our first year alone! Now if you have multiple boxes throughout the house this savings could really add up!
What Should you Do?
Identify which cable boxes you can return to Spectrum. We left one box in our living room which acted as our DVR. (The recording is available in the app….yet.)
For each box you're going to return, is it connected to a Samsung Smart TV? (ie: A TV that has apps built into it.) If it is, see if you can add the Spectrum App to your TV. If you can – you're all done. Return that box and watch your bill drop!
If your TV can't access the Spectrum app do you have a Xbox One that you use with that TV? If so, see if you can locate the Spectrum app on the Xbox. If you can, set it up and you're done.

Note: Not all Samsung Smart TV's have the app. We have one but the app wasn't available for our model. Check this list to see if your model has access to the Spectrum app.

If you don't have an Xbox One on the TV either the cheapest option is to purchase a Roku streaming device. There are several available but the cheapest option (since our goal here is to save money) is the Roku streaming stick. Purchase this, set up the Spectrum app on it and return the box to Spectrum or TWC.
What is Roku?
Roku makes devices that connect to your computer like a cable box. However, the Roku boxes are much smaller than a traditional cable box.
In addition, Roku sells a stick which looks a lot like a USB thumb drive you would put in your computer.

Regardless of the style of Roku streaming device you purchase
 it works the same way. You plug it into your TV through an HDMI port. Then, after changing the input on your TV to the port the Roku is plugged into, you see the Roku main screen.
The Roku has a menu and apps, like a typical smartphone or tablet. Some apps are preloaded onto the Roku and there are hundreds of others you can add as you like. Some of the most popular Roku apps are: Amazon video, VUDU, Hulu, Netflix, Google Play and, of course, Spectrum.
There are so many apps available to search through and use to watch shows, videos, movies and more that you can lost for hours in Roku!
Conclusion
There have been dramatic changes in the cable and TV industry lately. With all these changes it's hard to keep up with all the options that are currently available. And, without being aware of all the options, it's easy to get caught spending money when you don't have to. That's what we were doing. Hopefully this has helped you to save some money on your Spectrum cable bill and not overpay on your cable bill.