Have you ever wondered how to see an iPhone message timestamp? Well, it's easy. There's no need to change any settings or search through any menus. With just a swipe of your finger you can answer the question: when was that text message sent?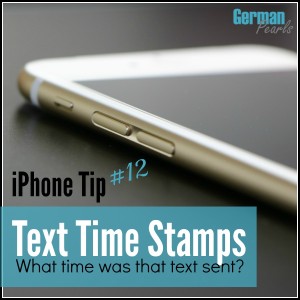 How to See an iPhone Message Timestamp
Apple built text message timestamps into the design of your iPhone and iPad but they're hidden. While this makes for a nice clean look in your messaging app it can be frustrating if you don't know how to get to the iPhone message timestamp you need.
Each text and iMessage timestamp can be displayed by doing the following:
Open the message app
Open the text thread or conversation for which you'd like to see the iPhone message timestamp
Scroll to the text or iMessage for which you'd like to display the timestamp
Press your finger anywhere on the screen and, while holding down, drag your finger to the left
The text and iMessage timestamps will appear to the right of the message bubbles
When you release your finger the messages will go back to their original position and the message timestamps will disappear again
With one motion you can find them all! It's as easy as that! If you're better at visualizing this iPhone trick watch our quick video below to see the iPhone message timestamps magically appear! 🙂
I hope you find this iPhone hack useful. And don't forget to browse through our other easy iPhone and iPad tips, tricks and hacks that make you feel like an iPhone expert!
Other iPhone Tips, Tricks and Hacks