My friend Susan over at OfEveryMoment.com recently wrote a Love and Hate Post which inspired me to think of some of my favorite things. (Being a tech geek, I of course thought about some of my favorite tech gadgets and programs.) Then, PC Magazine put out a post called The Best Free Software of 2015 and I was inspired to put together my own list of free software I use and enjoy.
I hate to spend money so, if I need new computer software, I'll do research and usually am able to find a free option with good reviews. Below is a list of free programs I've found (or have been recommended to me by trusted sources) and I regularly use.
Note: These are all being used on Windows computers. They may have versions available for other operating systems but this post focuses on Windows programs only.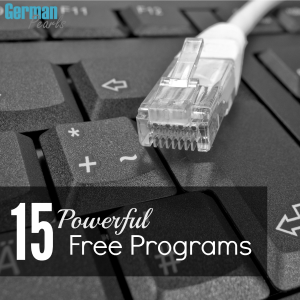 Note: This post may contain affiliate links.
Sign up to receive tech news and tips delivered right to your inbox:
Free Software – Pictures and Graphics Programs
1. Paint.net
Adobe Photoshop is, of course, the standard when it comes to graphics editing. But, it comes with a hefty price tag. After some research I found a highly recommended alternative called Paint.net. Paint.net offers functions similar to photoshop, without any cost! Between paint.net and PicMonkey (below) I have been able to edit and create all the graphics for this blog and for my personal use.
2. PicMonkey
Paint.net is a great tool to edit graphics. But, to create a graphic, I use an online program called PicMonkey. PicMonkey is a great choice for editing pictures, adding text and fun graphics, borders, etc. It's very user friendly, quick and easy to use. The majority of the graphics on this blog were created with PicMonkey and Paint.net.
3. FastStone Image Viewer
FastStone Image Viewer is an easy to use program which makes organizing and viewing digital pictures a breeze. It also includes some photo editing features and allows you to create slideshows.
I am an extremely organized (maybe borderline OCD 🙂 ) person so I had to come up with a way to organize my digital pictures or I'd go over the edge! Edited: Since writing this post I've added articles on how to find duplicate images on your computer and how I use FastStone Image viewer to organize my pictures and make them easy to find.
Note: If you're looking for more advanced features you should also check out ACDSee and Adobe Elements
.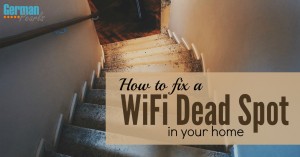 Free Software – Video Tools
4. Open Broadcaster Software
Open Broadcaster Software is screen capture software which can be used for live streaming and recording. We use this program to create computer tutorials for our YouTube page.
5. Real Downloader
RealDownloader is a free program which allows you to download videos you find on the internet. In this post I go into depth on how I use RealDownloader to download YouTube videos to save them on my computer for later use.
6. VLC Media Player
My expertise in video files and formats is definitely lacking but, I do know that I've been frustrated a time or two because my standard player can't read the file format and won't play the video. VLC Media Player solves all that. This player is awesome as it can read almost any file format you come across. It can play from files, CD's, DVD's and live streaming. In addition, it gives you the capability to convert files to a different format if you wish.
Free Software – File and Data Programs
7. Dropbox
In this post we review what the cloud is and compare various cloud services programs. Dropbox has been my go to cloud storage option at work and at home for years now. It's easy to use and the content is accessible on all my devices. In addition, their folder sharing makes it easy to share content with others.
8. Evernote
Evernote is a popular program which helps you organize your life. It's great for jotting down notes, organizing thoughts, keeping notebooks of recipes, whatever! The uses for this handy little software seem endless. I like it because I can capture thoughts and notes, keep them organized and access them from any computer or device quickly. If you're interested in learning more about Evernote or finding uses for it check out this post.
Free Sofware – Computer Tools
9. Classic Shell
If you were a windows user who upgraded to windows 8.1 you probably felt the frustration of not having a start menu in the desktop version of windows 8. Well, in this post we walk you through getting that start menu back using classic shell. I highly recommend anyone using windows 8 or 8.1 installs this program.
10. TeamViewer
While most of us are comfortable with the idea of sharing our files in the cloud so you can access them anywhere not as many are probably aware of how easy it is to work on your own computer remotely. Teamviewer is a powerful free tool which allows you to connect to your computer from anywhere you have an internet connection. (LogMeIn is also a great service if you don't mind a paid option.)
11. Folder Size Explorer
With programs getting larger and all of us taking more digital pictures filling up your hard drive is becoming a problem we're all more aware of. However, what's taking up all of the room on your hard drive? It's hard to figure out since windows explorer no longer shows you the sizes of your folders. In this post we walk you through how to use Folder Size Explorer to find out what's taking up all your hard drive space and figuring out what to delete.
12. Mozilla Firefox
When Internet Explorer started having technical glitches and security problems I did some research on alternate internet browsers. While Google Chrome is a popular choice I am conscious of all the information google collects about me and didn't want to provide them that much more (a hopeless cause maybe). Then I came across Mozilla Firefox. The browser is clean, easy to use and I've converted to using it at home and work for a few years now with no complaints.
Free Software – Security Tools
13. Avast
Everyone needs to have an antivirus software. Avast is a free antivirus software that's just as effective as some of the paid options.
14. Avira
Avira is another free antivirus software with excellent reviews. While you shouldn't install both Avast and Avira on your computer at the same time, either of these options is an excellent choice to help you keep your computer and information safe.
Note: I've recently heard good things from some IT folks about Eset anti-virus software.
15. Malwarebytes
Malware is similar to viruses but attacks a computer slightly differently. Therefore, you should always have malware protection on your computer. Malwarebytes is one of the most highly recommended malware protection programs available. I've used it to successfully clean up infected computer and trust it immensely.
Conclusion
There are so many free programs and tools out there it was hard to narrow down this list so we ended up writing part 2 of this post.
Part 2: 15 more free programs
Which free software and tools do you use the most? Please share with us below in the comments. We love discovering new resources!