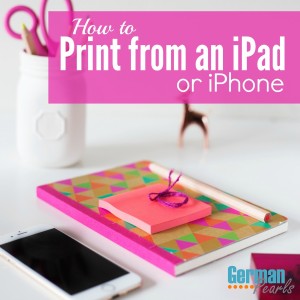 Have you ever wondered how to print from an iPad or iPhone? Wouldn't it be convenient to quickly print that great picture you just took? Or a webpage you just found? An email? Well, you can. There are a few different ways to do it. Let us show you how.
Print with Airprint
What is Airprint?
Airprint is a wireless technology that allows apple products to communicate with printers that also have the airprint technology. So, if you have an airprint capable printer you can easily print from your iPhone or iPad.
Does My Printer Have Airprint Technology?
There are a few ways to check if your current printer has airprint.
Is My Printer Airprint Capable and Already Set Up?
First, go to a picture, website, email, etc on your iPhone or iPad and click on the sharing symbol. When the sharing menu opens, select the print option. If you see a printer listed, you're all set up and can print whenever you want! If not, click on the choose printer option and see if your device can locate a printer on your network. If it can't, you don't have an airprint printer on your network.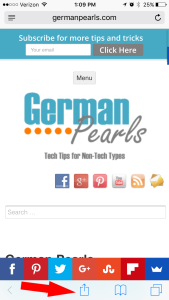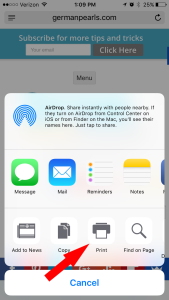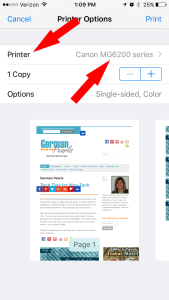 Is My Printer Airprint Capable but Not Set Up?
If you didn't find a printer using the above technique it doesn't mean your printer isn't airprint capable. In order for an airprint printer to work with your iPhone or iPad it also has to be connected to the same WiFi your device is connected to. To check if your printer has airprint check the printer specifications on amazon or the printer manufacturer's website, or look through apple's list of airprint printers.
If you've identified that your printer is airprint capable but you don't see it as a printer option on your iPhone or iPad then it's probably not connected to your WiFi. The printer and your iPhone or iPad must be connected to the same WiFi for the printer to work. Most likely your printer is not connected to the WiFi in your home. Using the printer manual or instructions from the manufacturer's website follow the steps to connect your printer to the WiFi.
Upgrade to an Airprint Printer
Printing prices have dropped in recent years so getting a new printer is an option if your existing printer doesn't have airprint. I've been happy with my Canon Pixma and it looks like many amazon shoppers are as well as it's the #1 best seller in inkjet printers. It's a combined printer, scanner and copier with wireless and airprint technologies and does a nice job at printing photographs. It's also got two paper trays so I leave plain paper in the main tray and 4×6 photo paper in the rear tray. When I print a picture from my iPhone it automatically uses the 4×6 photo paper. It's a quick and easy way to get a print from an iPhone pic!
Canon PIXMA MX922 Wireless Color Photo Printer with Scanner, Copier and Fax
How to Print from your iPad or iPhone without using Airprint
If you're current printer isn't Airprint enabled and you don't want to purchase a new printer there are other options. There are apps which provide a printing solution. I've tried a few and, while they work, I've found them to be a bit more cumbersome than using airprint.
Printer Manufacturer's Apps
Canon Printers
Canon's iOS printing app works with select Canon model printers. It allows you to print pictures or pdf's from your iPhone or iPad and scan directly to your iPhone or iPad from the printer. Again, this only works with specific Canon printer models so make sure yours is on the list.
HP Printers
The HP ePrint iOS app allows you to print from your iPhone or iPad directly to your HP printer. Similarly to Canon, this HP printing app only works with select HP printers so check if your model is compatible. From this app, you can print pictures, documents or other content. This app also allows you to print from cloud products such as Evernote, Dropbox and more.
Third Party Printing Apps
In addition to the apps provided by printer manufacturer's there are some other apps available that allow you to print from your iPhone or iPad. One such app is Printer Pro. This app prints wirelessly to your WiFi printer. Or, if your printer doesn't have WiFi you can still use this app to print through your computer. With this app you can print pictures, webpages, documents, email attachments and more.
Conclusion
With several options available you can certainly print from your iPhone or iPad. I prefer using airprint technology as I find it the easiest to use. With airprint you can print a picture, webpage, document, almost anything, in one step. If you opt to print through an app there are usually more steps and it may be slightly more complicated but you can still get the job done. If you have any problems printing from your iPhone or iPad leave a comment below, we'd be glad to help!