Here are some cool iPhone accessories that would make a great gift for any iPhone user. This gift guide is full of fun and useful gadgets that anyone with an iPhone or iPad would enjoy. Nobody can have too many cool iPhone accessories! 🙂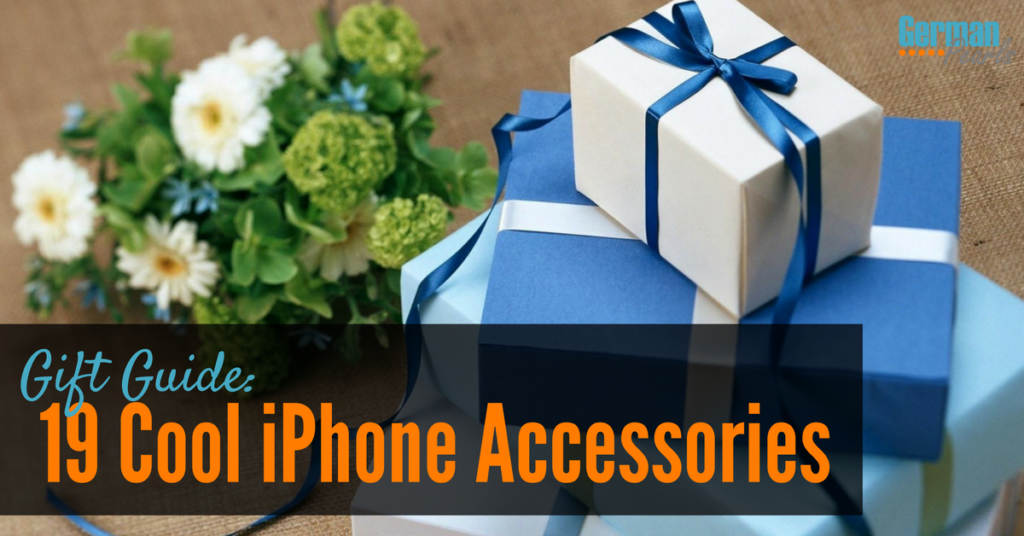 Note: This post may contain affiliate links.
Cool iPhone Accessories (and iPad Accessories)
---
Bluetooth Speaker
A bluetooth speaker is always a good gift. A bose bluetooth speaker is a great gift! Bose has a line of at least three bluetooth speakers, depending on how much you'd like to spend. There's the cute SoundLink Color Bluetooth speaker (available in fun colors), the SoundLink mini II and the SoudLink III.
---
 Bluetooth Headphones
I don't understand why people continue to use headphones that keep them attached to their phones. Whether the cord is bouncing around during a run or tangling around my arms when I'm at my desk I usually get frustrated with headphones that are plugged in. Bluetooth headphones never get tangled as there's no cord attaching to your phone! The SoundPEATS QY7 headphones come in fun colors, work well, stay in your ear and come with a nice little carrying case. They're perfect.  If you have a serious music listener and don't mind spending a little more, then the Bose bluetooth headphones are definitely the way to go.
---
Portable Storage Device
SanDisk iXpand iPhone storage drive is the coolest gift for your favorite iPhone lover. This is a USB drive that also plugs into your phone. There are so many uses for this little gadget. Use it to transfer movies, music or pictures onto or off of your phone. Keep it in your purse and use it to free up space when your iPhone storage is full. Keep music and movies on it to play on your iPhone so they don't take up space on your iPhone. Use it to quickly transfer pictures from your iPhone to your computer.
---
Portable Photo Printer
Remember when you actually held pictures in your hand? Well this printer makes it super easy to print out all those fun pictures from your phone. This polaroid portable photo printer prints pictures from your phone easily. Pull off the liner on the back and the photo is now a sticker. Fun to use in scrapbooks or for kids to put photos in their locker.
---
AirPrint Printer
In our post on how to print from an iPhone or iPad we talk about airprint technology. Basically, printers that have airprint technology built into them work with iPhones and iPads. When they're connected to your home WiFi all you have to do is hit print from your iPhone or iPad and your document or picture will print right out. This Canon printer has airprint technology, prints great quality photos, prints documents, scans and can copy. It's also priced really reasonably so you don't break the bank with this gift.
---
Portable USB Hub Charger
In our post with step by step instructions for creating a DIY charging station we talked about the awesome USB hub by Anker. Its smart technology makes sure your iPhone and iPad are always charging as fast as possible. It'll also charge any other gadget you have that can charge with a USB cord. I absolutely love this smart charger. If you're buying a gift for someone who travels a lot check out this smaller version.
---
Portable Battery Pack
iPhone and iPad batteries can die at the worst moments. There are things you can do to preserve battery life whent it's dying but it's still helpful to always carry a spare battery pack. I'm a big fan of Anker products and any of their battery packs make a great gift. Some have one USB port and some have more, for charging more than one device at a time. These battery packs will show how many mAh (milliamp-hours) they hold. The more mAh, the more battery life they hold. Generally, the bigger batteries hold more power. This one is nice and small for carrying around but holds enough power to charge an iPhone 6.
Small Portable Fan – One Cool iPhone Accessory
---
Fast Car Charger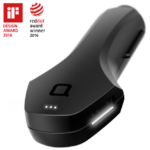 Not all car chargers are the same. In the post on 7 ways to charge your iPhone faster I showed the results when I compared charge times on my cheap charger to my new Zus charger.  It didn't take me long to toss that old charger. The Zus charged my phone way faster. Plus, it can charge two devices at once, the USB cable can be plugged in either way, it's lit so you can locate it in the dark and it can even locate my car for me if I forget where I parked!
---
Car Mount
Hold your iPhone in the car with an iPhone holder – not your hand. Keep your hands free while you're driving and keep your loved ones safe. There are a lot of different types of car holder but this one uses the CD player in your car…who plays CD's anymore? 🙂
---
Bluetooth Adapter for Car
Another way to keep your loved ones' hands off their phone while driving is to make sure they use their bluetooth speaker in their car. But what if they don't have bluetooth in their car? No problem! Just get them this bluetooth adapter. This adapter makes any car bluetooth compatible so you can make phone calls through your car speakers and keep your hands off your phone while you're driving.
---
Bike Mount
If you've ever been biking with your iPhone you know it can be difficult to find a place to put it. I like to keep mine in my back pocket but it's not very secure there when on a bike. A bike mount for your phone is so convenient. I researched the ones available on amazon and am putting this one on my holiday wish list. It looks secure and consistently gets 5-star reviews.
---
Tripod
A tripod for your iPhone can be handy. This small gorilla tripod can hold your iPhone up in all sorts of places. Wrap it around a post or stand it on an uneven surface. This tripod is inexpensive, small to carry and really handy.
---
iPhone Camera Remote

If your loved one loves to take pictures with their iPhone a great gift combo is the tripod above and a camera remote. These remotes connect via bluetooth to your smartphone so you can set your iPhone up, get everyone posed for the picture and snap a picture by pressing the button on the remote control.
---
Bluetooth Keyboard
A bluetooth keyboard can be a handy accessory for your iPhone or iPad. When you have to write an email or do a lot of typing the iPhone keyboard can be such a pain. We've written some posts on how to make typing on your iPhone more efficient but it's still not as easy as using a keyboard. That's where a bluetooth keyboard comes in. Just turn it on, it syncs with your iPhone or iPad and start typing. This logitech keyboard can connect to three different devices and has a slot which holds your iPad and iPhone upright at the same time.
---
Stylus
A stylus is handy for anyone with a smartphone or tablet. They come in all sizes and colors. Many are also pens, making them convenient.
---
;
iPhone HDMI Adapter
Did you ever want to show your iPhone pictures to everyone in the room? Or play a YouTube video on the TV? Or do you know someone who uses their iPhone or iPad for business presentations? This iPhone or iPad lightning to HDMI adapter can help you mirror your iPhone or iPad to a TV.
---
iPad Stand
An iPad or iPhone stand is handy if you want to read while sitting at a desk or table. It's also handy for reading a recipe off of your device in the kitchen. Got kids that like to watch movies on your iPad or iPhone? Prop it up on an adjustable stand. It's better than trying to prop it up with books and risking it falling and breaking.
---
VR Headset
A virtual reality headset is a fun accessory for any smartphone owner. Just check out the roundup of 21 cool apps for virtual reality headsets. You can experience new worlds, learn about new places and more. You may have heard some of these are pretty expensive…and some are. But you can get an inexpensive VR headset that works well. Check this set out.
---
Waterproof Carrier
If you're like me you always want to have your iPhone on hand. But what happens if you're going on a boat? If you're having a water balloon fight? If it's snowing outside? That's easy, just place it in this waterproof bag and your iPhone is protected from the water. (Though I wouldn't recommend swimming with it.)
---
Conclusion
What are your favorite cool iPhone accessories? What is your favorite gift to buy iPhone users? And what fun iPad gadgets are on your wish list?
See Also: