Tricks to Type Faster on Your iPhone / iPad
This 3-part series will bring you through various tips and tricks for typing and texting faster on your iPhone or iPad.  Be sure to check out part 1 to learn how to save time over and over again when filling out forms and part 3 of this series to check out a keyboard app that will make typing a breeze!  Now, let's get right into part 2 – iPhone and iPad keyboard tips for typing faster.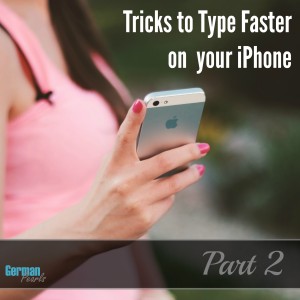 Part 2 – iPhone Keyboard Tips to Typing Faster
1. Finish A Sentence
At the end of a sentence double click the space bar and keep writing.  Double clicking the space bar will add the period and the space!
2. Use CAPS Lock
If you want to type in all caps double click the shift key (the up arrow) and it will turn on the CAPS lock.
3. Type One Number Quickly
Do you need to type a number?  Instead of switching to the number screen, typing your number and switching back to your keyboard this iPhone keyboard tip allows you to type one number in one quick motion!  Just press the key that would switch you to the number screen and (instead of letting go) slide your finger up to the number you want to type and let go.  This will type your number and leave you on the regular keyboard so you can get back to typing!
4. Type Special Characters
Hold your finger down on one character to see options for other characters.  For example, holding your finger down (long pressing) the $ key gives you different money symbols. Simply drag your finger to the one you want and let go. Play around and you'll find that a lot of keys have options if you long press them.  Here are a few examples examples of this iPhone keyboard tip:
5. Oops! Quickly Undo Typing
Oops, you just wrote an entire text and then changed your mind. That's ok, instead of backspacing through all the text simply shake your iPhone and an Undo Typing box will appear! Select undo to erase your text!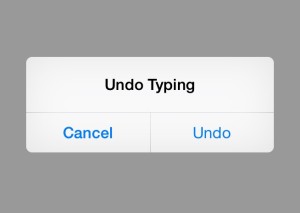 6. Entering Website Addresses in Safari
In safari, to enter website addresses faster enter the name and before writing ".com" press and hold the period key, to enter .com, .net, .edu, etc.  Select the appropriate one and you're all set.  (This iPhone keyboard trick also works when you're typing an email address.)
Most sites are also set up so the 'http://www' does not need to be entered.  So, if you want to visit https://www.germanpearls.com  the quickest way to enter the address is to type 'germanpearls' and then hold the period key and select .com.  When you press enter you should be brought to https://www.germanpearls.com!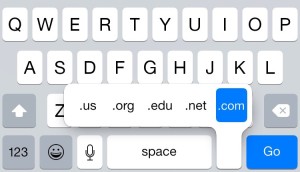 What other tips do you use to help you type faster? Leave a comment below, we'd love to hear from you!

Check out our part 1 of our series which includes keyboard shortcuts that will save you time over and over again and part 3 to learn about an iPhone keyboard app that will make you type even faster! Be sure to subscribe below to get updates on posts which will save you even more time.