Tricks to Type Faster on Your iPhone / iPad
Do you find typing on your iPhone or iPad as frustrating as I do? It just seems soooo slow! Well, there are some things you can do to speed it up. Make sure to check out part 1 and part 2 of this series to learn how to make filling in forms a breeze and use special tricks to save keystrokes when typing.  With this third tip you'll be able to type even faster!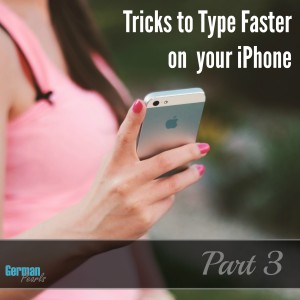 Keyboard Apps
With newer versions of the iPhone and ipad software (iOS 8 and newer) Apple gave us the ability to use third party keyboard apps.  What this means, is that you're not forced to use Apple's built in keyboard.  There are several apps available which give you a different keyboard.  Some of them will change the appearance of your keyboard and some have different tools which can make typing faster.  I'm going to share with you today the app which I use on my iPhone and iPad and simply love.
Swiftkey Keyboard App
The SwiftKey app is a third-party keyboard app for use on your iPad or iPhone. There are two features of this app which, in my mind, make it the best keyboard app available for iOS.
Swipe to Type
Swiping to type has been around on Android phones for quite some time but it's finally available for the iPhone and iPad – yay!  What this means is that if you want to type the word "phone" you would put your finger on the letter p, slide over to the letter h, slide up to o, then over to n and finally e, all without taking your finger off the screen.  Once you get to the last letter you take your finger off the screen and the word will appear! This makes typing very fast!!  Below is a quick video which shows how to install the keyboard app on your phone and shows how the swipe to type function works.
 Word Prediction
You may have noticed with newer versions of iOS (8 and newer) that there are three words above your keyboard.  Here your phone is trying to predict which word you want to type and places it there so you could simply click on the word instead of typing it.  It is a nice feature. But, the swiftkey keyboard app has improved this feature.  The app is "smarter" than the apple keyboard…it makes much better guesses as to what you're going to type.  If you sync your social media accounts with swiftkey it will "learn" how you talk, what words you like to use, etc and its predictions will get better.
This keyboard app will also tell you how well it's worked for you!  In the app, under personalized and your typing stats you can see how it's increased your productivity.  As of today I am 62% more productive with the swiftkey app!  It's corrected 408 of my typos and predicted 971 of my next words!  Have you tried the swiftkey keyboard app yet?  How much more productive has it made you?  Leave a comment below, we'd love to hear from you!
Don't forget to check out part 1 of our series which includes keyboard shortcuts that will save you time over and over again and part 2 which shows you quick and easy tricks to make typing on your iphone or ipad faster! Be sure to subscribe below to get updates on future posts on using tech to save you time!