Looking for the best iPhone keyboard app? I've tried several and have finally settled on one that I think is the best…at the moment. With fast technology changes and new app developments, this could definitely change in the future.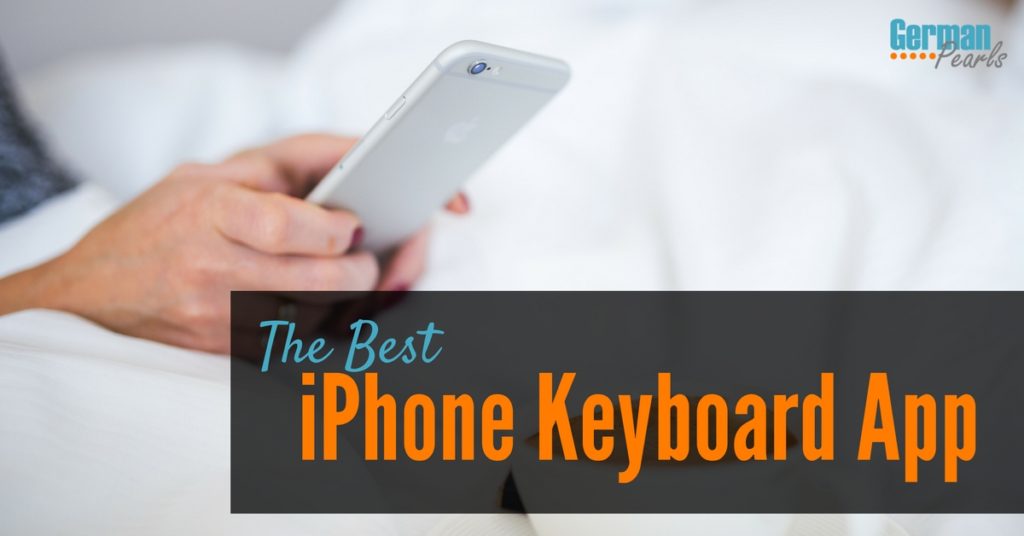 Note: This post may contain affiliate links.
iPhone Keyboard Apps
Before we talk about the best iPhone keyboard app we've found, let's go over a few of the others I've tried and talked about on German Pearls.
SwiftKey Keyboard App
We first covered 3rd party keyboard apps for the iPhone in our series on how to type faster on the iPhone. In that series I showed you the SwiftKey keyboard app. This app was one of the first good apps to introduce swipe to text to the iPhone. In addition, its word predictability was better than the iPhone's and constantly improved as it learned how you wrote. At that time I was using that app on my iPhone and it was improving my typing efficiency by 62%! Here's a quick video on the SwiftKey keyboard app:
After a few iOS updates I found the SwiftKey app was getting a bit glitchy. I still enjoyed using it but it would sometimes get stuck and my keyboard wouldn't open correctly or I couldn't switch back and forth between the native iPhone keyboard app.
Word Flow Keyboard App
Right around the time I was having problems with the Swift Key keyboard app I heard about Microsoft's new keyboard app called Word Flow. In our article about the Word Flow keyboard app you'll see that this app by Microsoft has the same swipe to text functionality as SwiftKey. But, the Word Flow Keyboard App for the iPhone also has a neat little "twist", literally. The keyboard turns so it's angled on either the right or left corner. This allows you to type easier on a larger phone with only your thumb. To learn more about this app you can read our post on the Word Flow Keyboard app.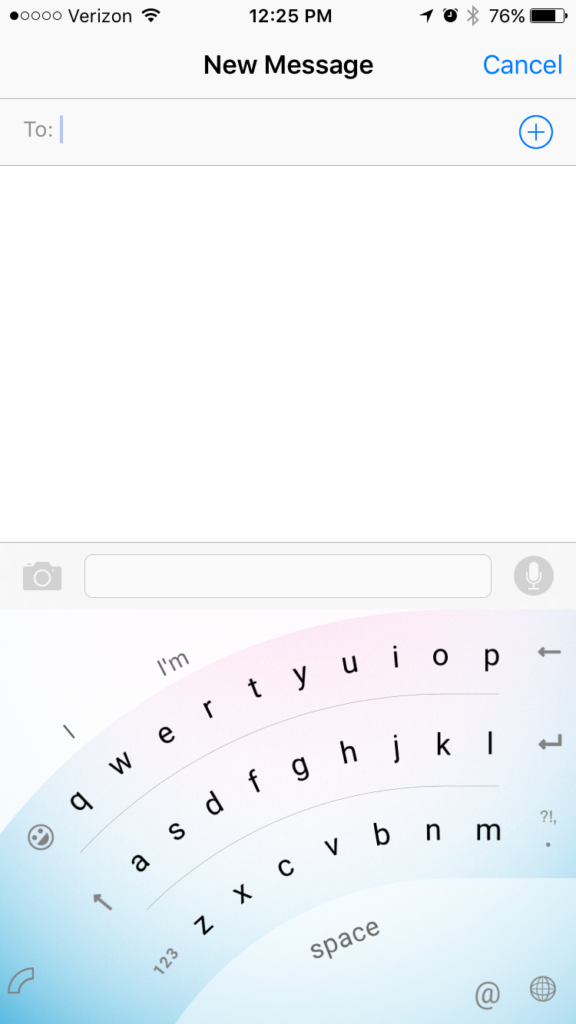 I was hopeful about this keyboard app. It had the swipe to text functionality I was getting used to and the word predictability I liked. However, I found the word predictions weren't as good as SwiftKey's. Also, one major drawback was the fact that memorized keyboard shortcuts didn't work in the Word Flow keyboard app!
You may remember from our keyboard series posts that creating your own memorized keyboard shortcuts can help you fill out forms online and type in long email addresses you type frequently. Well, in the Word Flow keyboard app the keyboard shortcuts entered in the settings of your iPhone weren't recognized. This made me less efficient, which I never like! This frustration caused me to try another keyboard app that others were talking about.
The Best iPhone Keyboard App
So, I caved in and decided to try Google's new keyboard app, Gboard.
Don't get me wrong, Gboard looked like a good app. I was just hesitant to try it because it seemed like an attempt by Google to further control peoples' online experience. I won't get off on a tangent but will just say I like rooting for the underdog and get a bit nervous about how much control some of the big companies have over our information. If you want to read more about this, read my article on mode.com about how companies are trying to monopolize our online time.
Gboard turned out to be the best iPhone keyboard app I've tried yet. Swipe to text functionality? Check. Works with memorized keyboard shortcuts? Check. Predictive text capabilities? Check. (Though I think the SwiftKey app better predicts your next word.) The app works without too many hangups or glitches? Check.
Aside from the Gboard keyboard app for the iPhone meeting all the criteria the other keyboard apps had, it also includes a new feature – a built it google search! There's a little "g" in the upper left corner of the keyboard screen. Clicking on the "g" lets you perform a google search right in the keyboard screen. Google's own video shows you the benefits of being able to search quickly – right in the keyboard app. Check it out.
Save
Conclusion
So, with all the functionality I was looking for and the added efficiency of the built in search…all in an app that just works without glitches? Yup, this is the best iPhone keyboard app I've found so far. Though I do like giving my business to an underdog there's a reason Google is on top. They know how to do things right. So, for the time being, I'll be using Google's Gboard keyboard app for the iPhone. What are you using?