I found a fun new keyboard app for the iPhone that has an interesting twist, literally. The Word Flow keyboard app is made by Microsoft for the iPhone and iPad. (Does anyone else find it funny that we're mentioning Microsoft and Apple products in the same sentence, as in working together?!) Word Flow is similar to another third party keyboard app we discussed in our series on tips for typing faster on your iPhone, SwiftKey. (This probably isn't surprising as Microsoft purchased SwiftKey in early 2016 according to TechCrunch.) However, unlike SwiftKey, Word Flow makes it easier for you to text with one finger, even on the larger iPhones.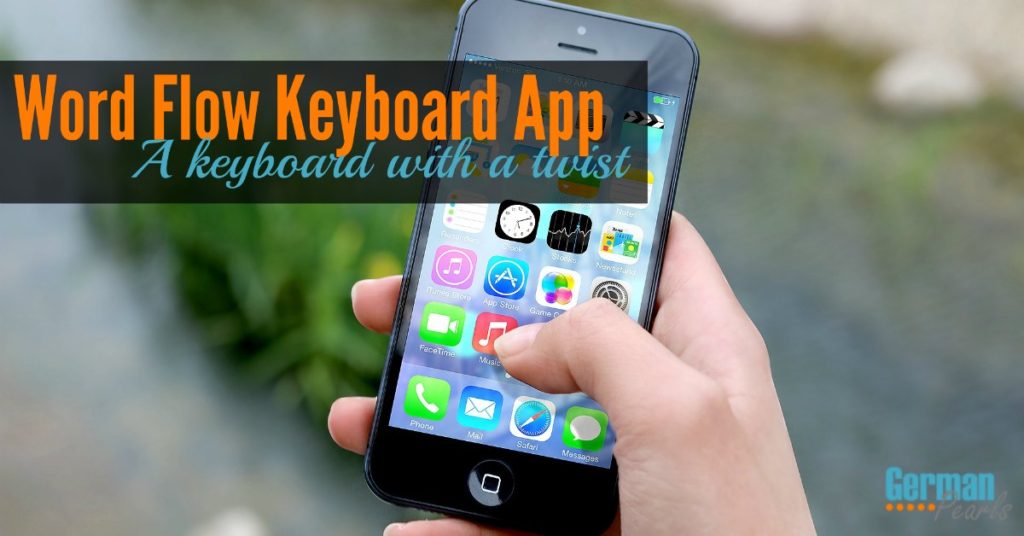 Note: This post may contain affiliate links.
Word Flow Keyboard App
The Word Flow Keyboard app is currently available for the iPhone and iPad. (It is also available for the Windows Phone but there isn't a version yet for Android.) It's in Apple's app store for free.
To install and test the app:
Download the app from the app store here
Open the settings app on your iPhone (the gray gear icon)
Go to the general menu
Scroll down and click keyboard
Click keyboards
The Word Flow keyboard app should show up with a note to install it (it may just be called Flow)
Click allow full access
Back out of the menus
Now when you access your keyboard you have the ability to switch to the Word Flow keyboard app. To do this tap on the globe icon to toggle between keyboards or press and hold the globe and select Flow from the menu that appears.
Word Flow Keyboard App Feature – Predictive Words
Just like the keyboard built in to the iPhone the Word Flow keyboard app comes with word prediction. Across the top of the keyboard are words that the app "thinks" you may want to type next. If it predicts correctly it eliminates the need for you to type the whole word. You can just tap on the word and it's typed in for you. This technology uses your typing history in texts (and in other apps if you allow it access) to understand the words and phrases you use. It can then try to perfect its ability to predict your next word.
At the start the word prediction wasn't that accurate for me. Since then it has continued to get better as the app "learns" the words and phrases I use. I found SwiftKey's word predictability excellent so I'm confident Word Flow will continue to improve with my use since Microsoft owns the SwiftKey technology and programming.
Word Flow Keyboard App Feature – Swipe to Text
Android users have long had the ability to swipe from one letter to the next to type words (see our SwiftKey video for an example on how this works). Third party apps have enabled iPhone and iPad users to have this capability as well. The swipe to text functionality is also included in the Word Flow keyboard app.
Word Flow Keyboard App Feature – Customizable Keyboard
If you like to customize your iPhone or iPad with fun backgrounds and colors you'll love the unlimited choices you have to spruce up this keyboard app. To change the colors and theme of the keyboard open the Word Flow app and navigate through the themes. Or, if you prefer, create your own using your own picture! Here's one of the built in colored themes.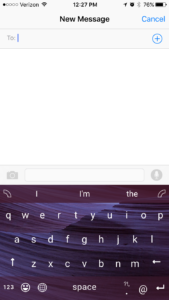 Word Flow Keyboard App Feature – Type with One Hand
When Apple decided to make the iPhone 6 bigger Steve Jobs was concerned about users losing the ability to access the entire touchscreen with their thumb. Reachability was introduced to address this concern. If you've seen our video on reachability you know that it enables you to access the top portion of the screen with your thumb. This makes it easier to use the iPhone with one hand. But, this doesn't address reaching across the width of the iPhone when using the keyboard. Microsoft's Word Flow Keyboard app attempts to address this feature with their arc feature. This feature turns the keyboard into an arc-like pattern which makes accessing the left hand side much easier for right-handed people. (If you choose to type with your left thumb you can move the keyboard to an arc on the left hand side of the screen.)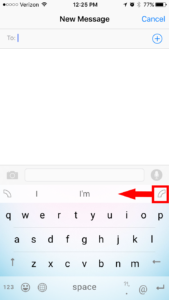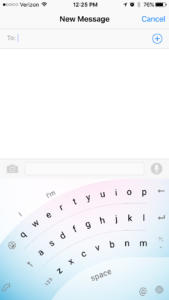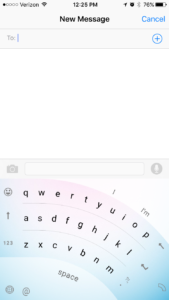 Word Flow Keyboard App – Potential Improvements
I've been happy with the Word Flow keyboard app so far. The only thing I would hope for from Microsoft would be the app's ability to recognize keyboard shortcuts I've created on my iPhone. We showed you in a previous post how keyboard shortcuts can save time when typing. Unfortunately, our shortcuts aren't being recognized by the Word Flow keyboard app. Microsoft has received feedback about this on a forum and I'm hoping they change this soon.
In addition to the one improvement from Microsoft on their Word Flow app I'd love to see Apple improve the way their operating system handles third party (or multiple) keyboard apps. I find it sometimes clunky to switch between keyboards. I've disabled the main keyboard and my other third party keyboard apps for now. This has made switching back and forth a little easier but I still feel it's a bit glitchy and Apple could address this on their end.
Conclusion
I've been testing out Microsoft's Word Flow Keyboard app for a few weeks now and am pretty happy with it. I'm hoping that Microsoft adds the capability to work with custom keyboard shortcuts soon. Aside from that, this third party keyboard app is easy to use whether your typing with one hand or two and is the app I'll be using.
Let us know if you've tried the Word Flow Keyboard app. Leave a comment below and let us know what you thought of it.