Earlier this year I put together a list of the 75 top apps of 2015. However, I'm sure we all have favorite iPhone apps that don't make the top lists. There are some diamonds in the rough out there. There are some apps that just fit specific needs in our lives. Looking through my phone, here is a list of my 10 favorite iPhone apps right now.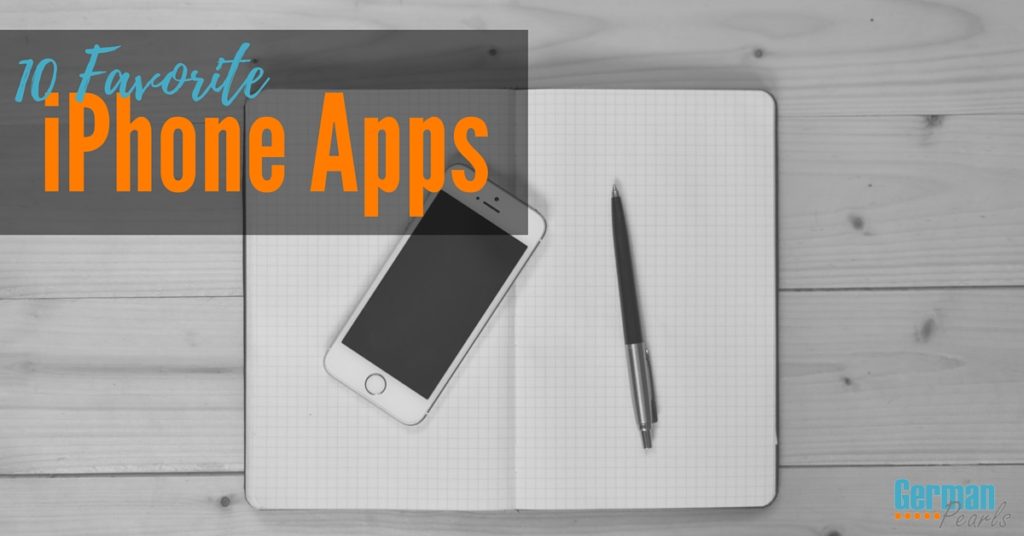 Note: This post may contain affiliate links.
10 Favorite iPhone Apps
With Apple now allowing third party keyboards to be used on iPhones there are many keyboard apps on the market. I recently tried the Word Flow keyboard app made by Microsoft. This app is interesting because it turns, allowing you to reach all the characters with one thumb, even on a larger iPhone. However, I didn't like the inability to use my stored keyboard shortcuts. (If you haven't used these before you should read our post on iPhone keyboard shortcuts to learn how they can make your typing more efficient.) I also found the Word Flow keyboard app's predictability wasn't as good as the Swiftkey keyboard app I was using previously. (In my previous post about the Swiftkey keyboard app I showed how its predictive text and swipe to text features increased my typing speed by 62%!) I will be switching back to the SwiftKey keyboard app.
See Also: 21 Amazing Google Cardboard Apps
I'm not a huge fan of social media and would often go weeks without opening Facebook. However, I've joined several Facebook groups that I find useful. They provide me with local updates, help me learn a new skill or keep updated with news. The Facebook Group app is one of my favorite iPhone apps because I can quickly scan each group for new posts or updates without getting sucked into random posts on my news feed. When I need to be efficient or want to see what's new this app helps me stay focused and I avoid getting sidetracked (too much).
Recording special moments in our lives is so much easier than it used to be now that most of us carry smartphones. Sometimes I find myself wanting to share a few pieces of different videos or add commentary to a video. This is when I use Splice. This app makes it so simple to combine, trim, add titles and share video clips on your phone.
See Also: 7 Ways to Make a Phone Call Without Cell Signal
In my list of 15 free software programs I talked about TeamViewer. I love being able to login to my work or home computer remotely, as needed. Say I'm on vacation and get a call from work (it happens). I can jump onto the TeamViewer app my iPhone, login to my work computer and pull out the necessary information from any database stored there. The small iPhone screen may make navigating around the computer a little more cumbersome but in an emergency it's great to have access to that information at any time.
Who doesn't like saving money on gas? Gas Buddy displays gas stations on a map to help you find them. But, the best part about this app, is that it also shows you current gas prices at those stations! As an app user you can also update the gas prices and compete in challenges to earn points. Points can then be used to enter for chances to win free gas. If you're don't feel like updating gas prices, don't worry about it. It's not necessary. But, the information is still there to help you save money on your next fill up!
After getting valuable coupons in the mail I used to get to the store and kick myself, having forgotten my coupons at home. With the GeoQpons app I don't worry about that anymore. Before I check out at any store I open this app, search for the store and check out the latest coupons. If I find a coupon I simply open it to view the barcode, show the person at the checkout counter so they can scan it and save money. This app has saved me hundreds of dollars, without a doubt. For more tips on using this app check out the post I wrote over on the Living on Fifty website.
I definitely don't exercise as much as I used to – or as I should. So, when I do log some time on the treadmill or go for a run I make sure to track it with Map My Fitness. You can tell the app what activity you're doing and press start when you begin. For example, if I go on a bike ride with my family I'll select bike riding and hit start. Then, while we're on our bike ride, the app records the route, speed and calculates calories burned. When I'm finished I press stop recording and the apps shows your route on a map, how far you went, your average speed and more. You can even connect with friends so you can cheer them on or brag about your latest accomplishment. 🙂
Build your own music station based on your favorite artists and/or songs. Thumbs up or down songs to refine your stations so it plays more of the music you like. Pandora's app makes it easy to listen to the music you love. If you prefer an ad-free listening experience just pay a small membership fee to remove the ads. Pandora is one of my favorite iPhone apps for listening to music.
I get bored of most games after a short while. Of all the games I've tried on my iPhone the one I've played the longest is Candy Crush. It's fun to play and challenging enough to keep me interested. It's also fun to compare your progress with family and friends. I'm not surprised it has earned billions of dollars in revenue. Popular Science magazine says it's addictive because it's "easy to learn but hard to master". That's why Candy Crush makes the list of one of my favorite iPhone apps.
Cozi is similar to the other to do list apps we reviewed in a previous post. However, it's more geared toward home management. The app has calendar, shopping, to do list, journal, contact, birthday and recipe box features. The best part about this app is the ability to create a family account so all members of your family share the same lists. We only use one feature of the app but it has been extremely useful. The shopping list. We maintain a shared grocery list. If we run out of something it goes on the list. Then, whoever goes shopping next can pick it up. If my husband goes to the store unexpectedly he sends me a text so I know and can update the Cozi list with anything I need. It works great. This app has been around for years, making the Well Connected Mom Lori's list of favorite apps in 2013, and is still my favorite for our shopping list.
Conclusion
What are your favorite iPhone apps? Apps that may not be monumental or breakthrough apps but just work for you and make your life easier? Let me know in the comments so I can check them out.