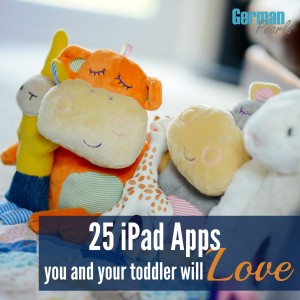 Note: This post may contain affiliate links.
Toddlers and technology….many will debate the pros and cons.  There are countless arguments and articles about why modern technology is bad for babies and toddlers such as this one on from the Washington Post.  There are also articles and opinions on how technology can be helpful for little ones.  I'm from a tech-loving family so, of course, my little ones are pretty familiar with iPhones and iPads.  But, I agree with the American Academy of Pediatrics in this article that technology, along with many things, is best in moderation.  But, this article isn't about the debate of toddlers and tech, it's about some iPad apps that both my kids and I appreciate.  (Not to mention the fact that most are free which I really appreciate.)
Note: You may also be interested in our 10 favorite iPhone apps.
---
iPad Apps for Babies
Fisher Price has been making toys for babies and toddlers since 1930.  It's no wonder that they also make some excellent iPad and iPhone apps for little ones.  Here are several that are easy to use and entertaining for babies.
Wheels on the Bus (Free lite version, $3.99 upgrade)
My little one love this app.  Though the song and music can sometimes get a little annoying the games are so cute and the little ones love it!  There is a free lite version or full version for $3.99.  The game includes a sing along, coloring book, math bus, race track, puzzles, memory game and more.
When my little guy was just starting to learn how to use the iPad the Peekaboo app was his go-to game.   Babies learn animals and the sounds they make as they peak out from behind bales of hay on the farm.  There are also jungle, safari and ocean themes that will cost you $1.99 each.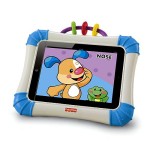 Fisher Price makes an iPad Case that protects your iPad from sticky fingers, drool, and accidental drops. It also has a nice handle that helps my little guy carry it around. Please note that this is an affiliate link (which means I earn a small commission should you purchase this product through this link). This case has protected our iPad from little gooey hands for a few years now.
---
Toddler iPad Apps for Learning Letters / Reading
There are several apps in this series which help your child learn reading through phonics.  While I love this app I haven't found that my toddler goes back to it on his own very often.  Perhaps as he gets a little older he'll have a little bit more interest.
These three apps made by Originator Inc. are so cute.  They are puzzle type games that teach letters, numbers and words.  The letters and words are cute little monsters that repeat their sounds.  And the sounds are so cute they're not annoying! 🙂  Endless Alphabet is a good starter for learning letters, Endless Numbers learning numbers and Endless Reader a little more advanced.
Games, activities and videos which help toddlers learn about letters and sounds.  What toddler doesn't love Elmo?
When it comes to learning letters I love Leap Frog! This app doesn't disappoint.  It helps toddlers learn how to write letters, numbers and shapes with the Mr. Pencil stylus.  The stylus is optional but my little guy associates his pencil with this app and gets excited to play the game when he has the stylus.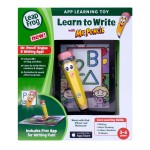 We first found the app after purchasing the Mr. Pencil stylus.  It's not necessary but my little guy associates it with the app so whenever he grabs his pencil stylus he writes some letters on the app.  Please note that this is an affiliate link which means I earn a small commission on a sale from this link.
---
Toddler iPad Apps – Games
Available in a Lite (Free) version as well as a full (Paid) version, Tozzle is a puzzle game in which little ones can start to learn how to drag and drop on the iPad, learn how to do puzzles and shape recognition.  There are different levels of difficulty and the app "helps out" with  arrows for the younger ones.  The lite version offers fewer puzzles but this is one of those apps that my little ones enjoyed so much that I put up the $1.99 (or whatever the cost was at the time) for the full version.
Dress Mr. Potato Head up as different characters and watch your creation dance around in different scenes.  This app is one my kids go back to over and over again.
I don't remember how I came across this app but my boys love it! The younger one quickly learned how to manipulate the vehicles, load apples onto the truck, dump them elsewhere and really enjoyed himself with it.  This is a simple but very cute app.
Leo's Pad (Free, with Paid Upgrades)
This app is highly educational and highly engaging.  Older toddlers really love the characters and stories in this app.  The entire program is pricier than most apps ($24.99) but my little one has fun playing around with Chapter 1 which you can get for free.
The My Vehicle Universe app is designed for both the iPhone and iPad.  Kids can play puzzles, paint, play matching games and practice counting all in vehicle themed atmospheres.  This is great for those little ones that are obsessed with race cars, construction vehicles, emergency vehicles, boats, planes, etc.
The Phone for Kids app is made for both the iPhone and iPad.  It's not fancy but it's a cute game that the little ones like to pretend they're using their own smartphone. According to the app description there are over 30 fun and educational games within this one app!
---
Toddler iPad Apps for Drawing / Artwork
Draw + Coloring Book HD
From tracing to connect the dots to learning how to draw this app is full of artistic treasures and their favorite disney characters.  We found the app after purchasing a cute Mickey Mouse Stylus (see below) but the stylus isn't necessary for the app.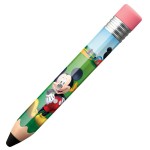 We found the Mickey Mouse Creativity App after purchasing this stylus.  It's not necessary for the app but the little ones find it very cute and love having their own stylus.  Please note that this is an affiliate link which means we earn a small commission should you purchase this through the link.
---
Toddler iPad Apps for Watching Videos / Shows
If your kids are like mine, they, no doubt, love to watch the surprise eggs on YouTube. It still baffles me that these (as well as the unboxing toy videos) are so enthralling for my little ones.  Well, with the new YouTube Kids app you can feel confident when they're watching their favorite videos that they won't stumble upon something inappropriate.  The app is organized so little ones can explore different content without needing to read.  There's also a microphone search option that's really easy to use and can interpret some "little one talk".  For those concerned about how much time their little spends watching videos, there is also a parent features that allows you to limit their viewing time.
Though there are a few games on the Nick Jr app it's main focus seems to be episodes of the Nick Jr shows.  With the latest obsessions being Paw Patrol, Blaze and the Monster Machines, Dora the Explorer, Bubble Guppies and more this app is a home run for my little ones.  It's very user friendly and they can find their way to their favorite show easily.
What toddler doesn't want to watch Mickey Mouse? Watch Mickey and more of your Disney Junior friends like Doc McStuffins, Sherriff Callie, Sofia the First, and Jake and the Never Land Pirates on the Disney Junior iPad App.
Videos from your favorite PBS Kids shows….Elmo, Daniel Tiger's Neighborhood, Super Why!, Curious George, The Cat in the Hat and more.  The app is easy to navigate and my little guys can always find something to watch on this app.
---
Conclusion
There they are….25 apps that your little one (and you) will appreciate.  Which ones have you tried? Which ones do your little ones enjoy? Are there others that you've found that are must haves? Leave a comment below, we'd love to hear from you! And subscribe to our newsletter to discover more useful apps and tech tips.