Do you ever let your toddler play with your iPhone or iPad only to get it back and find your apps missing? Have you ever gotten a big iTunes bill after your son or daughter was playing on your iPad/iPhone and authorizing in-app purchases? Does your baby have a difficult time playing with his favorite baby app because he's inadvertently switching between apps by the way he's hitting the screen? There are easy parental controls you can set to child proof your iPad or iPhone!
Note: Check out our post on 25 iPad apps you and your toddler will love!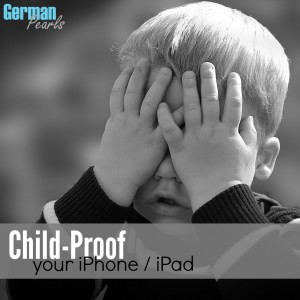 Note: This post may contain affiliate links.
iPhone / iPad Parental Controls (Restrictions in Settings)
In the iPhone and iPad Settings > General menu there is an item called 'restrictions'. Opening this menu will show you several options for restricting a user's access to certain apps or options (unless a password is entered). These options can be very useful for child proofing your iPhone or iPad. Below are some of the things you can restrict to toddler proof your iPad or iPhone.
Note: Here the link to Apple's support page which describes restriction (parental controls) in detail.
To get started, select restrictions and click enable restrictions.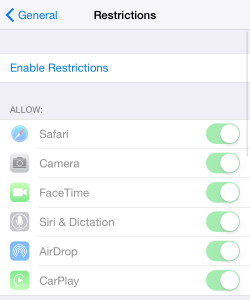 You will then be prompted for a passcode (which you'll need to remember for later).  You'll be prompted to enter the same passcode again, to confirm it's what you want.  You'll use these passcodes later if you want to modify the restriction settings, turn off restrictions or access an area you have restricted on your iPhone or iPad.
Turn off Access to Certain Apps
If you would like to keep your child or toddler from accessing the following apps, simply tap them in the menu so the slider is green:
Safari – no surfing the web for inappropriate sites
Camera – so you don't end up with 100 pictures of the ceiling 🙂
FaceTime – you never know whose phone number they'll click on!
Siri & Dictation – she probably won't understand your little one and you never know what they'll get Siri to do
AirDrop – you don't need your little one sharing your pics with anyone close by
CarPlay – if you have a car with CarPlay you'll probably want to select this to limit their access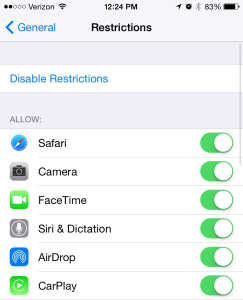 Limit Access to iTunes Apps
In addition, you can limit your child's ability to access the iTunes store, purchase apps, install apps, delete apps, etc. Below is the list of options available in the restrictions menu. It may make sense to turn any or all of these on to child proof your iPhone or iPad.
Installing Apps
Deleting Apps – I highly recommend this one….chances are you won't realize an app is missing until you need it and can't find it
In-App Purchases – I also highly recommend this one…A lot of the child and toddler apps (especially free ones like I mention in this post) have in-app purchases. By turning on this restriction you can save money on your iTunes account and also prevent confusion/frustration on the part of your little one when they click on the in-app purchase and get brought over to the iTunes store.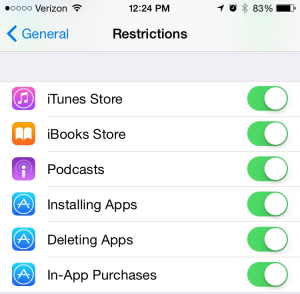 Limit Explicit Music and/or Restrict R Rated Movies
In the allowed content section of the restrictions menu you can limit what music, shows, apps, etc can be shown on your iPad or iPhone. Select each of the following sections and select which ratings you allow access to on your device (you can always access them yourself if you enter your password):
Music, Podcasts, iTunes U – allow or don't allow explicit content
Movies – select which movies they can watch: none, G rated, PG, PG-13, R, NC-17 or all
TV Shows – select which TV shows are accessible: none, TV-Y, TV-Y7, TV-G, TV-PG, TV-14, TV-MA, or all
Books – allow or don't allow explicit content
Apps – select which apps are accessible: none, 4+, 9+, 12+, 17+, or all
Siri – allow or don't allow explicit language, allow or don't allow web search
Websites – all all website, only specific websites or limit adult content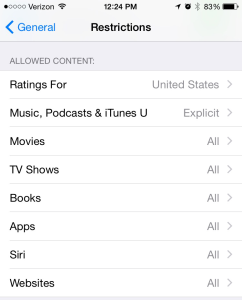 Restrict Setting Changes
When you have your device set up exactly how you like it the last thing you need is for your little one to go in and change your settings by accident.  There are functions built into the restrictions portion of iOS which allow you to restrict access to changing settings on:
Privacy Services
Location Services
Contacts
Calendars
Reminders
Photos
Share My Location
Bluetooth Sharing
Microphone
Twitter
Facebook
Advertising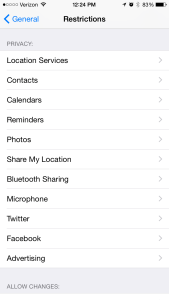 Device Settings
Accounts
Cellular Data Usage
Background App Refresh
Volume Limit
Turn Off Multitasking Features on iPad
If you're looking to baby proof your iPad one thing that will help reduce your little one's frustration is to turn off the multitasking gestures. With multitasking gestures on you can slide 4 or 5 fingers to the right or left to switch between open apps. However, I found that with my little one touching the screen with most of his hand he was switching between the apps a lot. He would just get into an app he liked and he'd inadvertently switch to another app.  He would get confused and frustrated.  Turning this function off improved his ability to use the iPad. To turn this off go to Settings > General and turn off multitasking gestures. (Note: After some research I believe this function doesn't exist on the iPhone and is only available on the iPad. If you know differently, let me know.)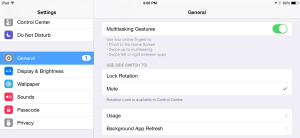 What has your little one managed to do on your iPhone or iPad? What do you do to toddler proof your device?