Find My iPhone
The find my iPhone app is a great tool to track an iphone when it's lost. But, for it work effectively – you have to turn it on! So, one of the first things you should do when you get an iPhone is enable find my iPhone. To do this, go to Settings > iCloud and select 'Find my Iphone'. Turn on both 'Find My iPhone' and 'Send Last Location'.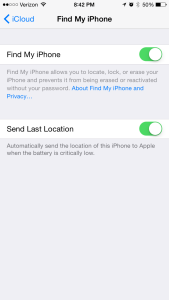 For more instructions you can visit Apple's support site here.

How to Use Find My iPhone
Want to know how to track an iphone? If you have find my iPhone enabled, it's easy.
Open any internet browser and go to www.icloud.com
Sign in with your apple id and password
Select Find My iPhone
Enter your apple ID password again
If you have multiple devices, select which device you're looking for from the dropdown in the top middle of the screen.  Now you can:

Track your iPhone on a map – zoom in or out on the map and move it around if necessary to better identify its location
Play a sound – useful if the iPhone is near you but you can't find it
Enable Lost Mode – this will remotely lock your iPhone with a 4 digit passcode, display a custom message on the screen and keep track of your device's location
Erase iPhone – if you really think your iPhone is lost for good you can erase it remotely to keep your content secure
Whose iPhone is This?
Did you know that if someone finds a lost iPhone they can press the home button and ask Siri "whose iPhone is this?"? Go ahead, try it.  Lock your iPhone, press and hold the home button and ask Siri who owns this iPhone. Does your name and contact information come up on the screen? If it does – great! If not, let's go through how to make sure Siri knows who you are and how people can reach you when you lost your iPhone.
Create a Contact…YOU
Go to your contacts and look for your name. Are you set up as a contact on your own iPhone? You should be.
To do this, click the + on the upper right corner of your phone to create a new contact. The following information would be useful to add so anyone who finds your phone can contact you:
First Name
Last Name
An alternate phone (if you have one)
Email Address
Home Address
Now that you've created yourself as a contact, you have to make sure your phone knows that's you.
Identify Yourself to your iPhone
On your iPhone, go to Settings > Mail, Contacts, Calendars and scroll down to the Contacts section. Press where it says 'My Info'. This will pull up your contacts list, select your own contact info you just set up. That's it!
Now go test it out. Lock your iPhone and ask Siri whose iPhone this is…bet she knows this time! 🙂
Once you have 'find my iphone' setup and your phone knows your contact information you're in pretty good shape should you lose your phone. (Assuming, that is, that the person that finds it tries to find an owner. 🙂 )  Have you ever lost your iPhone? What have you done to locate it?  Leave a comment below, we'd love to hear from you.