Have you ever forgotten your iPhone passcode? It's not an easy predicament to get out of. Last week my husband forgot the passcode to unlock his iPhone. In researching how to get back into the phone we learned there's no easy fix. We'll break down the process for you below.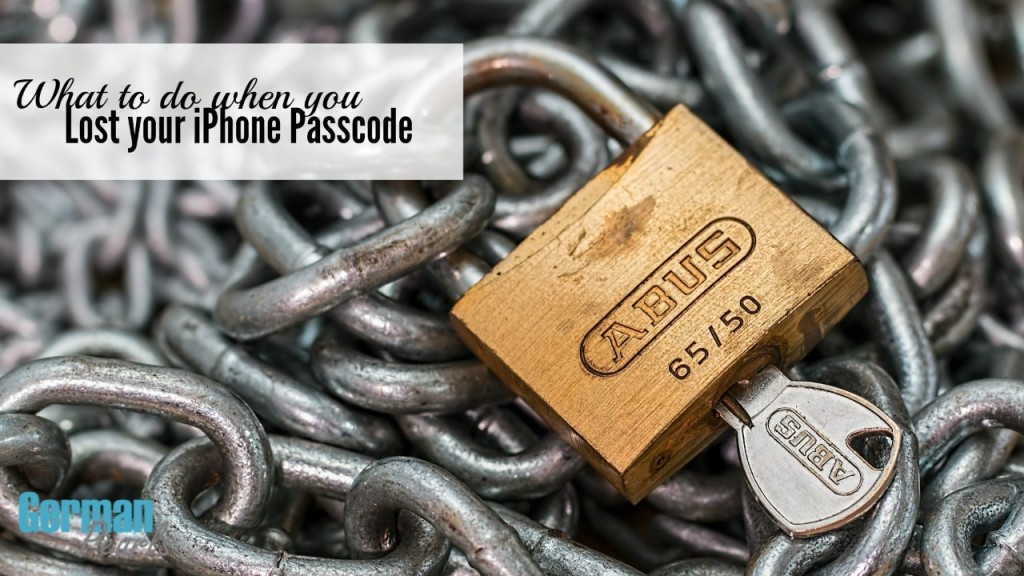 Note: This post may contain affiliate links.
Help! I Forgot My iPhone Passcode!
If you use a passcode or password to lock your iPhone (even if you use your fingerprint to unlock it) there are times when you CAN NOT GET INTO YOUR PHONE WITHOUT THE PASSCODE. And, unfortunately, continuing to enter incorrect passcodes will lock you out for longer and longer periods of time. So, what can you do??
The bottom line:   Wipe your iPhone clean and restore it from a backup.
What does this mean?  You'll lose all pictures and videos taken since your last iPhone backup.
Yuck! I know, not a pretty thought but that's Apple's recommendation. To make matters worse, if you have 'Find my iPhone' turned on (which you always should…to get more details, read this post) you can't just reset your iPhone, your iPhone WON'T LET YOU! This gets so frustrating! But, there is a way out, and we'll show you how.
How to Reset your iPhone after Forgetting your Passcode
To follow the instructions below you'll need to have your iPhone backed up to a computer and have access to that computer. (If you have your iPhone backed up to the iCloud be sure to subscribe to the blog and watch for our post on how to restore your iPhone from an iCloud backup.)
If You Have 'Find My iPhone' Turned OFF
Plug your iPhone into the computer where you have the backup stored and turn on iTunes
Sync your iPhone (the sync should start automatically once iTunes is opened and iPhone plugged into the computer)
Backup your iPhone (IF POSSIBLE)

Some websites report that you can backup your iPhone at this stage, we received an error and were unable to back it up without entering the passcode. But, it's worth a try. If you can back it up at this stage you won't lose anything on the restore.

In iTunes, select your device from the upper left hand corner of the screen 
On the menu that's on the left side of the screen, select Summary
Select Restore iPhone
Your iPhone will now be cleaned and restored to factory settings (as if it were a brand new phone)
Now, on your iPhone, walk through the steps of the setup process by answering the questions and entering your Apple ID when prompted
When the iPhone asks if you want to set up a new iPhone or restore from a backup, select restore from a backup
Select the device and most recent backup
Your iPhone will then be restored from the backup you selected and you'll now have access to your iPhone again and be able to set a new passcode! (Write it down this time.) 🙂
If You Have 'Find My iPhone' Turned ON
If you have Find My iPhone turned on it gets a little trickier as iTunes will not let you Restore your iPhone. This is a nice safety feature so anyone you finds your iPhone couldn't just wipe it clean and make it their own. (For tips on settings to update in case you lose your iPhone check out this post.) This was frustrating to us until we found this great post by lifehacker which helped us through this hurtle.
If you have Find My iPhone turned on the first 5 steps are the same as above. Then, on step 6, to restore your iPhone, you must put the phone into recovery mode. To do this, start by holding the power and home buttons down at the same time until apple logo appears (about 10 seconds). (This is very similar to a reset that can be very useful at times.) When the apple logo appears, let go of the power button but continue to hold the home button down until the screen shows a USB cable and iTunes logo. iTunes (on your computer) will then display a notification that it has detected an iPhone in recovery mode. You are now able to select the restore iPhone option and continue with steps 6 through 11 above.
Having gone through this process and spent some time researching the issue we came across many different methods that are said to be successful ways to recover your iPhone after losing your passcode. However, many of these methods did not work for us. That being said, there a lot of different iPhone versions, iOS versions, iTunes versions, etc so maybe these methods worked for others. Have you ever lost your iPhone passcode? What did you do? Leave a comment below if you have another method. Also, if the method above didn't work for you because you don't have your iPhone backed up to a computer check out this apple post and check out our article on how to better keep track of your passwords.