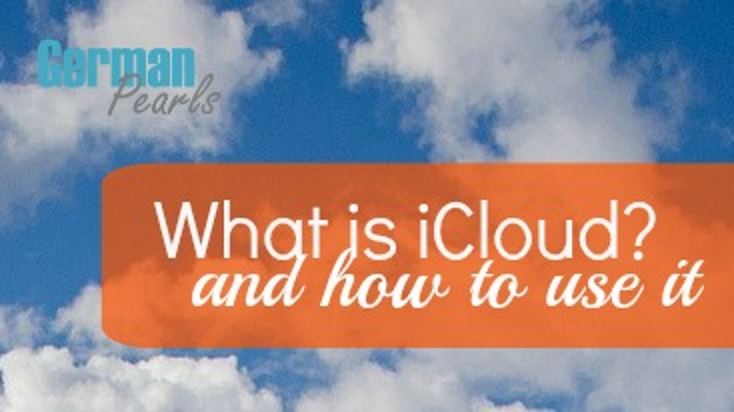 What is iCloud?
In a previous post we described the cloud as being a place to store your files, similar to a hard drive or jump drive. The difference between the cloud and your hard drive is that the files aren't stored in your computer or your phone, they're stored by someone else, on someone else's computer, which you can access anywhere. iCloud is a cloud service provided by Apple. So, if you have an iCloud account and store files in iCloud, you're really storing them in Apple computers somewhere.
iCloud Storage
What can you use iCloud for? What types of files can you store in iCloud? Files that can be stored in iCloud include:
music
pictures
calendar
contacts
email
notes
reminders
iCloud Drive

documents
spreadsheets
presentations
pdf's
How much does it cost? Apple gives you 5GB of storage for free. If you want more storage, you'll need to pay for it (similar to most cloud services). You can currently get:
20GB of storage for $0.99/month
200GB for $3.99/month
500GB for $9.99/month
1TB for $19.99/month
How to Control iCloud Settings
To turn on iCloud from your iPhone or iPad go to Settings > iCloud.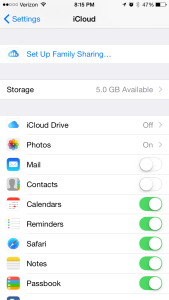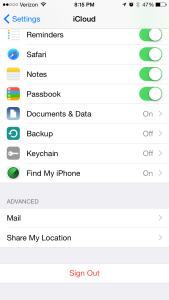 Here you can set up family sharing (watch for our upcoming post on family sharing), purchase more storage on iCloud and specify which items you'd like to store in iCloud.
Note: The more you store, the more space you'll need and the more it will cost.
If you want to store an item in the iCloud, turn the toggle switch to the on position.
Where to Access iCloud Data
So now you've turned on iCloud and your pictures, music, etc are being stored in the cloud. Now what? How can you access your files? You can access your iCloud on your iPhone, iPad, computer or on the web from anywhere.
Accessing iCloud Files from iPhone or iPad
Your files will be synced in the appropriate app on your phone. For instance, if you want to see a note you wrote on your iPad and have stored in the iCloud, it will be on your phone in the notes app. Or, a picture you took on your iPhone will be in your photo stream in the photo app on your iPad.
Accessing iCloud Files from the Internet
Some items stored on the iCloud may be accessed on the internet. These items include mail, contacts, calendar, photos and iCloud drive files. To access these from any web browser (ie: internet explorer, google chrome) simply go to www.icloud.com and log in with your apple ID and password. You'll then see a screen like this: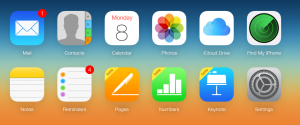 From there, click on each icon to access those files or settings.
Accessing iCloud Files from your Computer
To access iCloud files from your Computer you'll need to download the appropriate application. For windows users, follow the instructions on this page to download the application and install it on your computer. Mac users, follow the instructions on this page to install the application on your Mac.
Once the application is installed on your computer you will be prompted to enable the services you'd like access to on your computer. You can then find those items using windows explorer in their own iCloud folders.
Have more questions on iCloud? Leave a comment below and we'll be glad to help out!
Also, check out our article on apple's family sharing.