If your looking for gift ideas or just want to check out some cool tech gadgets take a look at the roundup below. Each one of these cool gadgets is $50 or less!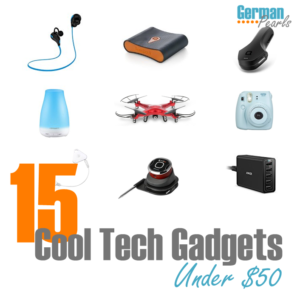 Note: This post may contain affiliate links.
Cool Tech Gadgets Under $50
---
Do you know someone who loves gadgets and would love to make their home more modern and "smart"? Start them out with the Alexa Dot. Use Alexa to help you answer questions, do internet searches, check the weather or adjust your other smart home devices. The Dot can get you started at under $50.
---
Think you have to fork over a lot of money for one of those drones with built in cameras? Not so much. Turns out you can get one for under $50. And the ratings are pretty good!
---
Know someone who thinks they would like a tablet but isn't sure if it's worth the money? The Amazon Fire Tablet could be the perfect tablet to get them started.
---
Don't be tied down anymore! Anyone would love a pair of bluetooth headphones so they're not tethered to their phone. Use them to listen to music from your phone, receive calls and switch back and forth easily.
---
Essential oils are all the rage right now and this humidifier and oil diffuser glows is soothing colors. This little gadget is a great way to add ambiance to any room.
---
I used to think it would take a lot of money to invest in security cameras or require you to pay a hefty monthly service fee. That was, until I found this cool little camera. At a reasonable price you can set the camera up and link it to an app on your phone. (If you want to record motion and are up for spending a little more than $50 the next model up has a slot for a microSD card.)
---
Smart Car Charger
This cool little gadget is packed full of capabilities. Use it in your car to charge two devices (faster than other chargers according to my tests), locate your car when you forget where you've parked and monitor your car battery's health!
---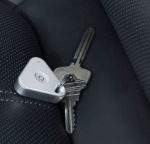 iHere
Know someone that has a habit of misplacing things? Get them an iHere to attach to their keys, put in their purse or attach to anything they frequently lose and they'll always be able to keep track of it. This is the only finder that is rechargeable and it also acts as a smartphone camera remote!
---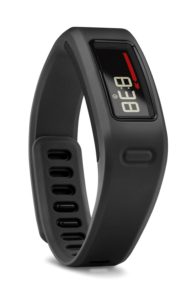 Fitness Tracker
You don't have to spend a lot to get a fitness tracker. I love my fitbit but there are other brands and styles that are more affordable. This Garmin arm band fitness tracker is less than $50. (Note: If you get your friend a fitness tracker you may also want to show them our post on how to find a lost fitbit. Those little guys can get lost pretty easily.) 🙂
---
With all of our devices we have more batteries to charge. This charging hub from Anker is smart – it will give your devices the power they need to get an optimal charge. If you're looking for a DIY gift check out the charging station I made using this hub.
---
If you're buying a gift for a serious gamer an inexpensive set of virtual reality goggles (VR headset) can make for a fun gift. Drop your smartphone in the headset and check some of the amazing VR apps available. (Here's our roundup of 21 Amazing VR Apps.) There are games available but you can also explore space, museums, different countries, watch surgeries and more!
---
Buying a gift for a friend that travels a lot? Get them a luggage tracker! This little device can help them locate their luggage in the event it gets lost by the airline.
---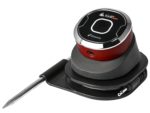 Smart Grilling Thermometer
This would be a great gift for anyone that loves to grill or host outdoor parties. This smart thermometer connects to an app in your phone to help you keep an "eye" on your food without having to keep your eye on it.
---
Anyone can use a bluetooth speaker for their office, kitchen or to bring when traveling. This one is both affordable and waterproof – perfect for vacation!
---
This one sneaks in and just a tad over $50 but it's such a cool little tech gadget we couldn't leave it out. Remember when we actually used to have physical pictures we could look at? Well, this little instant camera brings back the polaroid days – in better quality.
---
Conclusion
With these cool tech gadgets under $50 you're sure to be able to find a gift for a loved one (or a new toy for yourself). If you're looking for other gift ideas check out the other gift guides:
Have fun checking out all the cool tech gadgets!! What's your favorite?