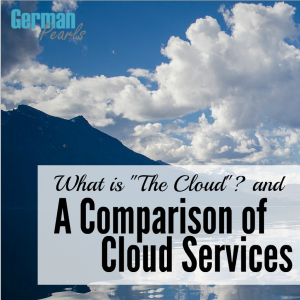 Note: This post may contain affiliate links.
What is the Cloud?
There's been lots of talk about "the cloud" lately. Are you wondering "what are they talking about"? Well, here's a brief description.  The cloud is simply a place where you can store your pictures, files, music, etc so they can be accessed anywhere.  A few years ago we stored our files (pictures, music, a pdf documents, etc.) on our computers.  And, if we wanted to open, edit or share them we had to be at our computer.  Now, if you have cloud storage, it's like having your computer's hard drive with you at all times.  (In reality the cloud storage provider, ie: dropbox, google, amazon, stores your files for you and you can then access them through different apps or programs.) So, which is the best cloud service?  That probably depends on how you use it and personal preferences but in this post we'll compare a few different options.
Cloud Storage Comparison (Including Free Cloud Online Storage)
There are several online storage options available and most include some free storage for a basic plan. So, which one is right for you? The table below compares a few of the more popular options and details how much cloud storage you can get for free, how much additional online storage will cost you, if you can share your files, where you can access them and more.
Cloud Storage Provider
Dropbox
Google Drive
iCloud Drive
Box
Amazon Cloud Drive
Microsoft OneDrive
Website
www.dropbox.com
www.google.com/drive/
www.apple.com/icloud/icloud-drive/
www.box.com/
www.amazon.com/ clouddrive/home#
onedrive.live.com/
about/en-us/
Free Storage
2 GB
15 GB
5 GB
10 GB
3 month free trial
15 GB (+5GB bonuses for referrals)
Paid Upgrade
$9.99/mo, 1TB
$1.99/mo, 100GB
$9.99/mo, 1 TB
$99.99/mo, 10 TB
and higher plans!
$0.99/mo 20GB
$3.99/mo, 200GB
$9.99/mo, 200GB
$19.99/mo, 1TB
$10/mo, 100GB
$59.99/yr, unlimited
$1.99/mo, 100GB
$3.99/mo, 200GB
$6.99/mo, 1TB (includes Office 365)
Editing
integrates with Microsoft office apps
Google Docs
integrates with Microsoft office programs
Sharing
options for sharing individual folders with select users
share with others to view or edit files
no current sharing capability
invite others to view, add, edit and comment on folders
you can share by sharing a link (which could then be shared with others)
share individual files or folders and control sharing options (ie: view, edit)
Access

Windows, Mac, Linux

iOS, Android, Windows Phones, Blackberry, Kindle Fire

Windows, Mac

iOS, Android

Windows, Mac

iOS

Windows, Mac

iOS, Android, Windows Phones, Blackberry

Windows, Mac

iOS, Android, FireTV, Fire Phone

Windows, Mac

iOS, Android, Windows Phone

Xbox
Apple also has a cloud storage option available.  This is slightly different as it's geared more toward Apple product users.
Further Reading
You may also want to check out PC Magazine's article, The Best Cloud Services for 2015 or CNET's, Which Cloud Service is Right for You?.
What do you think is the best cloud storage option? Leave a comment below, we'd love to hear some user reviews.