There are many reasons you should be using accounting software for your small business. If you're just starting up or running a small business you may avoid using an accounting software because you think it's confusing or unnecessary if you use a professional accountant for your taxes. But, an accounting software can make you streamline your business and increase your bottom line.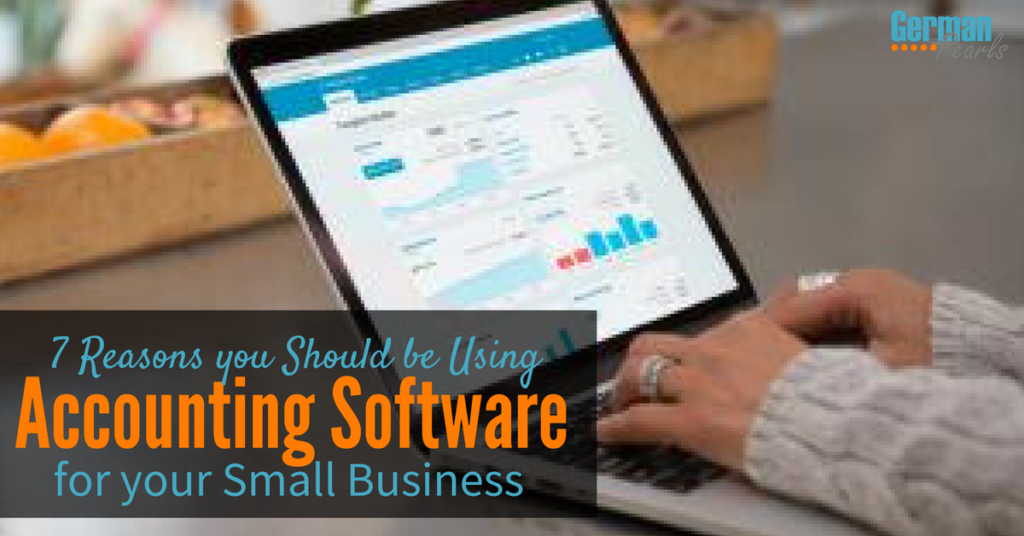 Note: This post was sponsored by Xero and may contain affiliate links.
In this post we'll walk you through the advantages of using accounting software for your small business using examples from a popular bookkeeping solution for small businesses,
Xero
. Xero is a cloud-based accounting software that
PC Mag
calls "usable and friendly". (That's pretty good for an
accounting
software which is usually quite complicated and boring!)
1. Access your Business Financial Data from Anywhere
We mentioned above that Xero is a "cloud-based" software. This means that Xero and its information isn't stored on your computer, it's stored in the cloud. (If you want more information on the cloud you may be interested in reading the post on what is the cloud.) Without too much technical mumbo jumbo it just means that your information isn't sitting on a physical computer in your office. Think of it as being stored on the internet so you can access it from your computer in your office, from your tablet when you're at a client's office or from your smartphone when you're on vacation.
By keeping your small business finances with Xero, or a similar cloud-based accounting software, you can access your information from wherever you are. Xero has iPhone, iPad, Apple Watch and Google Play apps for Android devices. This also means that you can reconcile your bank account while sitting on the train during your morning commute. How's that for being productive!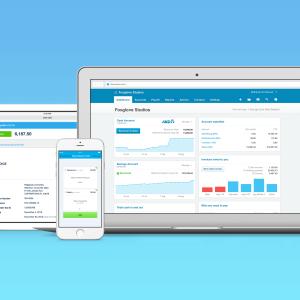 2. Automate your Financial Tasks to Save Time
While we're on the topic of productivity, let's talk about how easy it can be to capture your financial information with an accounting software. Sure, you could use Excel spreadsheets to track all of your purchases and expenses but that's can be a lot of manual data entry. You may think that small business accounting software requires more data entry but it actually can be a lot less data entry than tracking finances in a spreadsheet.
Xero integrates with over 500 apps and services to track your time, manage your inventory, pay invoices and more. Here are just some of the examples of how you can link your financial data to your other software services:
Capture payments automatically when you integrate through services like: Square, Paypal and Stripe
Track sales through integrations with Square, Shopify and more
Manage inventory by linking Xero with Vend, Unleashed, Cin7 and other inventory trackers
Link to Gusto, Deputy, ADP or other payroll services
Keep important tax documentation with your books by linking Xero with Zapier, Hubdoc and others
WorkFlow Max, Deputy and Minute Doc are just a few of the time tracking tools that can communicate with Xero
Link CRM information with your financial data by linking Xero with Salesforce, MailChimp, Constant Contact, Google Apps for Work and more
3. Keep your Finger on the Pulse of your Business
Now that we know that small business accounting software doesn't have to be time consuming to maintain, let's talk about how it can benefit the bottom line. If you're like some small business owners I know, you only review your finances once a month, or, even worse, only once per year! By only looking at your financial information once a month you could miss seeing valuable information for weeks. This could cause you to lose opportunities to reverse a downward trend or capitalize on a gain. Xero's elegant real time dashboards give you a snapshot of how your company is performing right now. Spot downward trends as soon as they start to happen and take action to reverse them. Identify business changes that are having a positive impact and capitalized on them to boost their effect.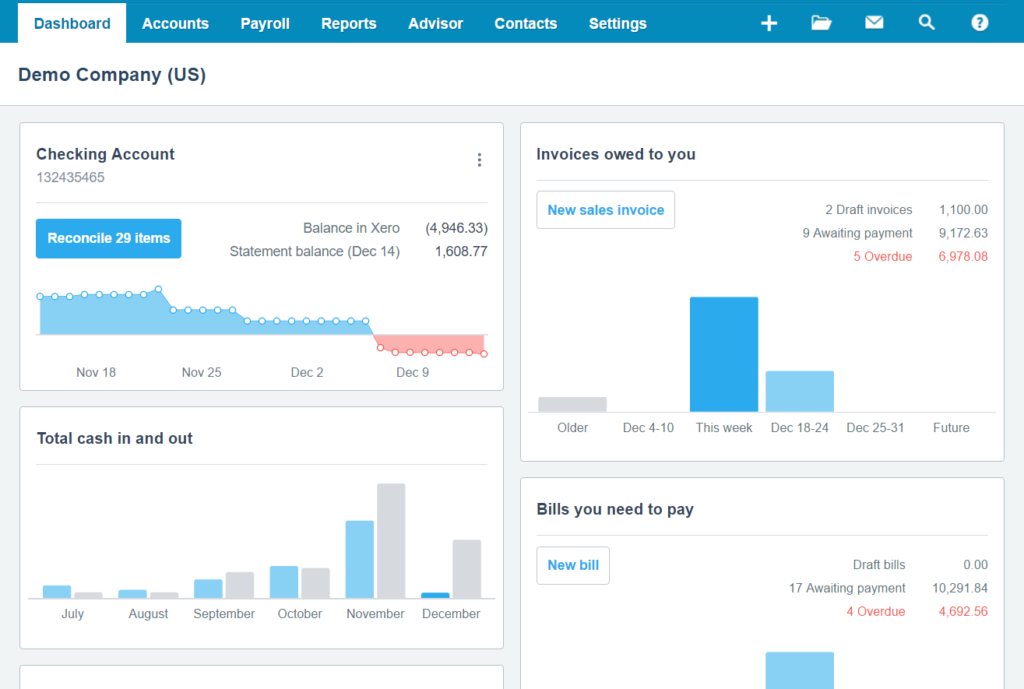 4. Bring your Business to the Next Level
Small business accounting software can also help you bring you your small business to the next level. Are you still generating quotes using crude Microsoft Word templates? With an accounting software like Xero you can create and send professional looking quotes to potential customers. One of the hard lessons I've learned in my professional life is that perception is reality. Make sure when you present yourself  to a potential customer they perceive you as a professional.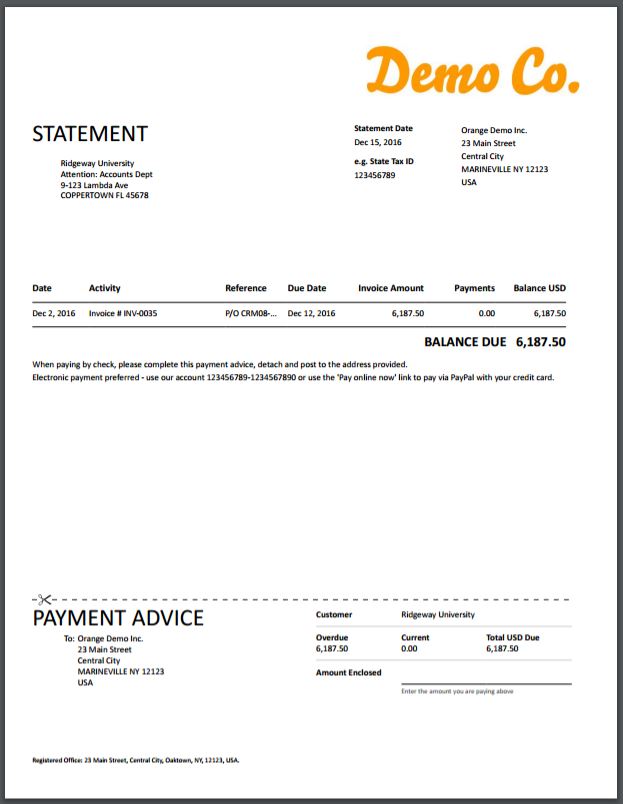 5. Complete and Accurate Records for Tax Preparation
When it gets close to tax time do you find yourself shuffling through a shoebox full of receipts, trying to remember which expenses were business related? One important reason you should be using accounting software for your small business is for accurate tax records. Accurate taxes don't just benefit the government, they benefit you too. When you're digging through piles of paperwork to gather tax information for your accountant are you going to remember a purchase you made for your business over a year ago? Probably not. Without recording expenses real time you could miss out of valuable deductions on your taxes.
6. Collaborate with your Accountant
With a small business accounting software like Xero you can share your books with your accountant. With up to date information it's easier to calculate quarterly tax documents and estimations. Your accountant can now use this information to provide you with more proactive financial advise instead of just preparing documents for you in April.
7. It's a Business
Perhaps the best reason for using accounting software for your small business is that it is a business.  All big businesses started as small businesses. Give your small business the respect it deserves and treat it as if it's a legitimate business. Perhaps then, one day, it will become a bigger business. Good luck!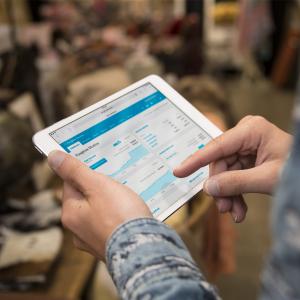 Why you Should be Using Accounting Software for your Small Business
These are just a few of the reasons you should be using accounting software for your small business. And, as with most improvements, there's no better time to start than now. If you're ready to start I'd encourage you to check out Xero. Signup for a free trial and you can see how easy it is to use and explore the different features in more detail using a demo company.