Computers fail. Viruses and malware are everywhere. Fires happen. Floods happen. Stuff happens. Computers, smartphones and tablets are being used more and more in our daily lives. That means when these devices fail we are losing more pictures, more files, more information than ever before. So, it is becoming more and more important for us to backup our files, backup our computers, backup our information. Ok, so how?
Note: For another level of protection against virus and malware see this post for some free anti-virus and anti-malware software options.
When it comes to backing up your computer, files or hard drive the possibilities are endless. There are countless different techniques, programs, hardware and services that you could use to backup your tech life. In this post we'll walk you through a few different techniques you could use to backup your computer and information.  But, this is, by no means, all inclusive.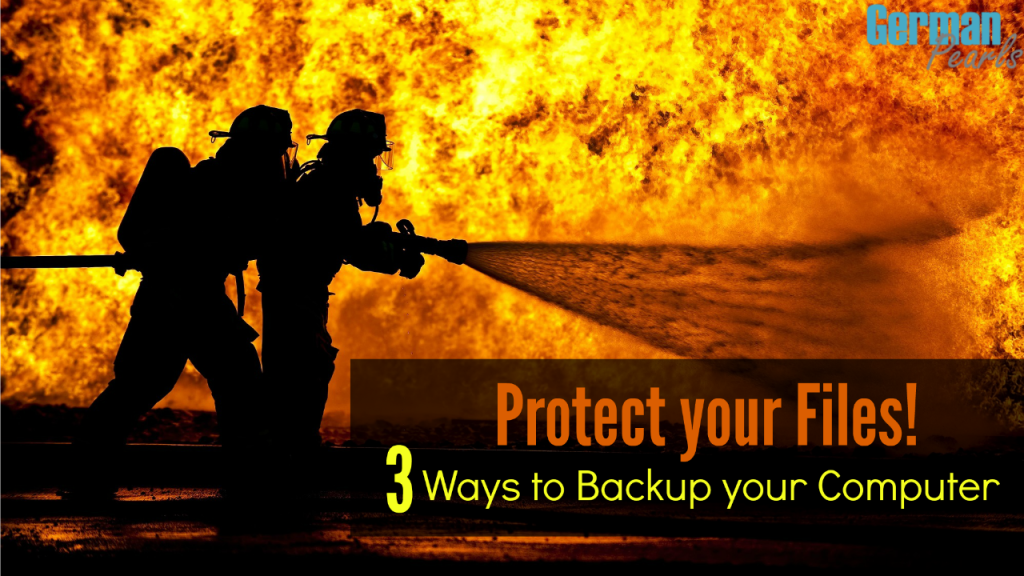 Note: This post may contain affiliate links which means should you choose to purchase or download items I may earn a small commission, at no extra charge to you.
OPTION 1: Use a Backup Service
If you're not interested in spending time manually backing up items or remembering to do it regularly there are several services available to do it for you. These services, like the popular Carbonite, backup your files to their servers or the cloud (read more about the cloud here).
PROS:
ease of use – these services can be extremely user friendly for non-tech individuals
after setup is complete backups usually happen automatically and you don't have to worry about it again
data is usually saved on someone else's server which means it's a different physical location that your data, safe from physical damage like a flood or fire
many offer file restore so you can get back a file that's been accidentally deleted
the service may offer cloud access to your data or individual files
customer support for those that aren't as comfortable with file backup and maneuvering
CONS:
cost – there's usually a recurring fee like an annual charge
Backup Service Options
There are countless backup services available. Many of the popular cloud services that you'll find in this post offer some type of backup service as a part of their program. Or, there are standalone programs available that are focused primarily on backups. Here are a few examples of some popular options which aren't too expensive:
Carbonite is one of the most well-known backup services available. They have a few different plans which offer varying levels of backup at different costs. You can backup files or create a mirror image of your entire drive to restore your entire computer from a catastrophe. Their setup appears to be very user friendly with help articles and customer support there for additional help.
Nero Backitup offers a few different plans as well. With their least expensive plan you can back up files to a local USB stick or hard drive. Or, by upgrading to more expensive plans, your files are backed up to the cloud with increasing amounts of storage space.
SUMMARY: If you want the confidence in knowing your files are being backed up regularly, are happy with a hands off approach and don't mind paying a small fee, paying for a service like Carbonite is probably the way to go.
OPTION 2: Manual Backups
If you're comfortable copying files in windows explorer (or a similar program) and don't mind taking the time to do it occasionally you can backup your files yourself. There are some advantages and disadvantages to doing it this way:
PROS:
minimal cost – you can purchase an external hard drive once and never have any more cost associated with backing up your files
you have complete control over what is backed up and when
CONS:
the process is more manual so you'll have to be a bit more comfortable copying files (or following the tutorial below)
backups are not completed continuously so you have to remember to backup regularly and you have more potential to lose files created since your last backup
there's a risk that the hard drive you back up to fails or is physically harmed
Manual Backup Techniques
Just as there are several backup services available there are several methods for performing manual backups. This is one method you could use to backup a windows computer:
Step 1: Backup Files
First you'll need a place to put your files. Instead of using a cloud service like the examples above you can place your files on an external hard drive. An external hard drive is similar to a USB stick, jump drive, whatever term you use for the small USB dongle you can store files on. However, an external hard drive is probably a bit more reliable and will, most definitely, be able to store more data than a traditional USB stick. Here are some examples of external hard drives. I use and am happy with both the Western Digital and Seagate drives I use.

Seagate Expansion 1TB Portable External Hard Drive USB 3.0 (STEA1000400)
WD My Passport Ultra 1 TB Portable External Hard Drive, Black (WDBGPU0010BBK-NESN)
Now that we have a place to put our files we need to figure out which files we need to backup. Usually the most precious information that would be lost in the event of a computer failure or catastrophe would be personal files like pictures, videos, documents, etc. Traditionally these are stored together in one user folder. Each user you have on your computer will have their own user folder. These user folders store documents, pictures, videos, internet favorites, and more. By creating a copy of this entire folder and saving it on the external drive you've created a backup. Here's a step by step guide on how to do this transfer:
Plug your external hard drive into a USB port on your computer
Open windows explorer from your windows start menu (see this post if you don't have a start menu in windows 8 yet) or by pressing the windows key and E
Double click on the C: drive to see the folders on your hard drive
Scroll down until you see the Users folder and double click on it
You'll then see the sub-folders of the Users folder; You should see one that is your username; For instance, I see a folder named Amy
When you find your User folder click it once to highlight it and then right click and select copy
On the left hand side of the windows explorer window scroll down until you find 'This PC' and double click on it
On the right hand side of the windows explorer window you'll now see different drives on your computer. You should see your external hard drive. Its name will most likely be the brand name of the drive you purchased (ie: seagate, WD).
When you find your external drive click on it once to highlight it and then right click and select paste
Your files will then copy to the external drive; Depending on how many files you have, this may take some time
If there are several different users that use the computer you should repeat this process for each user. Once the files have copied to the hard drive you should disconnect the hard drive and store it away from your computer. I like to keep mine stored in a waterproof fire safe box like this one:


SentrySafe HD4100CG Fire-Safe Waterproof File
With the hard drive stored in this, if there's a fire or flood that destroys my computer the external hard drive and those files will be safe. There are many other options that would work as well but if you choose a fire-safe box make sure it's also waterproof. It would be a shame to have your items kept completely safe from the fire only to be destroyed by the water used to put out the fire!
Another good option is to store the hard drive at a completely separate location. Bring it to work and leave it there, store it in a safety deposit box or at a family member's house. The key is to keep it away from your computer so any physical damage or catastrophe that may damage your computer won't affect this drive as well.
Step 2: Backup a Program List
So now you have your files but what about your programs you have installed on your computer? You probably downloaded most of your programs from the internet or installed them from a CD ROM. In either case, you should be able to reinstall them on a new computer if you had to. But, remembering which ones you've installed is the hard part. So, along with your personal files you'll want to store a list of programs that you have installed on your computer. Then, if your computer fails, you can remember the programs you use and reinstall them. To generate a program list from your computer follow these steps:
Click on the start menu (if you're using windows 8 and don't have a start menu read this post to add a start menu first)
In the search / run field type cmd
In the search results find the item that says command prompt, right click on it and select 'Run as Administrator'
A new window will open with a DOS command prompt
In the DOS window, type: wmic product > c:\product.txt
It will take a minute to generate a text file listing the programs installed on your computer (there may be some that aren't included but this should find the majority of them)
The list of programs installed will be in the c: drive called product.txt; Either print it out and store it with your hard drive or copy the file to your external hard drive so it will also be saved
OPTION 3: Create a Mirror Image of Your Hard Drive
Another option for backing up your computer is to create a mirror image of your drive. This is exactly what it sounds like. It's like you're making an exact replica of your drive so should your drive ever fail or get corrupted you use to mirror image to recreate your drive exactly as you had it. Therefore, with this method you'll restore your programs, your photos, music, files, everything.
There are many programs and services available that will generate a mirror image of your hard drive. Some programs with free options are Paragon Backup & Recovery and DriveImage XML. Creating this backup may be require a bit more technical understanding so if you're a novice and want to go this route you may prefer to go with a paid service that will create this backup, like Carbonite.
As always, if you need any help with anything in this post, please leave a comment below and we'd be glad to help! Remember, you never know when a disaster (fire, flood, virus, malware, etc) could happen so back up, back up, back up!