It can be so frustrating not to be able to see folder sizes in windows. I'd be working along fine on my computer one day and…BAM!…I get the nasty message that my hard drive only has 10% of space left. Running with a hard drive that's too full can slow your computer down and cause it to lock up. Annoying! To top it off, you can't even see folder sizes in windows explorer! If you can't see which folders are taking up the most space, how are you supposed to figure out what you can delete to free up space?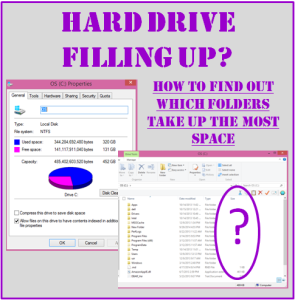 Well, it turns out there's a nifty little program called Folder Size Explorer which allows you to see folder sizes in windows. The program works on windows 2003, XP, 7, 8.1, 10 and more.  It's free to download with an option to donate if you'd like.
After downloading you find the file in your downloads and install it on your computer.  After you download and open the program it scans your computer to calculate folder sizes.  (This takes a few minutes, presumably why it's no longer included in the standard Windows Explorer.)
Once it's done you'll see something like this: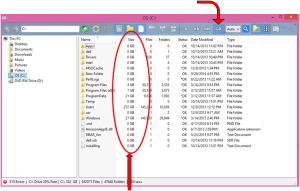 The top menu gives you an option to see folder sizes in MB or GB (for those really big folders).  Since I wasn't looking to get rid of any programs (yet) I didn't pay any attention to the Program Files or Program Files (x86) folders. And I certainly am not messing around with the windows folder. So, the users folder is the next biggest one…time to investigate that one.  By double clicking on it I can see any sub-folders within that one and will again see their folder sizes.  I can then continue to go to the biggest sub-folders to figure out what content is taking up so much room.
Well, turns out it was my music, pictures and some movie files.  Turns out I didn't need the movie files anymore so I deleted them.  I have thousands of digital pictures (don't we all?) going back to 2001. I decided to take those from the earlier years and put them on a portable hard drive like this one since I don't access them that much anyway. So, quickly, I was able to find and remove about 80GB of data.  That makes for a much happier computer which means more efficiency for me!
Is there a trick you use to keep some free space on your hard drive?