Computers aren't perfect. WHAT? No, they're not perfect. 🙂 We've all had our problems and frustrations with computers. But what if one of those frustrating moments results is duplicated photos? Whether it's an issue with the iPhone cloud or a mistake you made while trying to organize your pictures or any other type of problem, duplicate photos can be annoying and cost you precious hard drive space. But what's the solution? How do you find the duplicates? And what if they're in separate folders, will you ever find them? Well, Awesome Duplicate Photo Finder, is what it says it is. It's a duplicate image finder and, for the most part, pretty awesome, in my opinion.
NOTE: You may also be interested in our posts about organizing digital photos or how to see folder sizes in windows when your hard drive is full.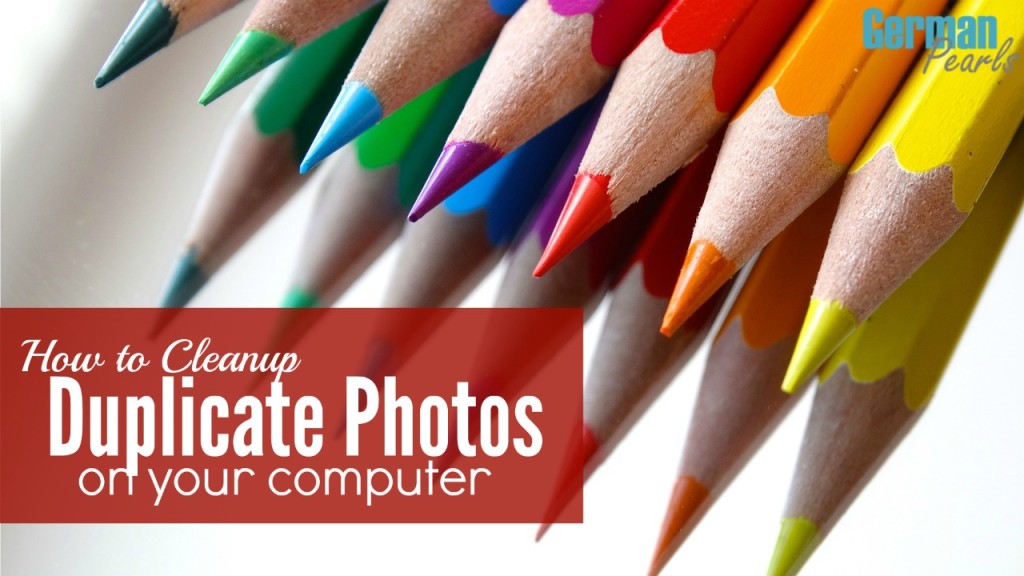 Note: This post may contain affiliate links.
Awesome Duplicate Photo Finder
There are several programs available that locate duplicate files on your computer. After doing some research I settled on Awesome Duplicate Photo Finder and have been pretty pleased with it. Here are my initial thoughts with the program, as it relates to finding duplicate images:
Pros:
Free
Simple to Use
The program shows you the degree of similarity between items and includes a function to only search for 100% matches
Cons:
You can delete all duplicates or one by one, I haven't been able to figure out how to delete a group all at once. (If you figure out how to do this, let me know!)
If you're highly technical and want to specify more settings for searching there aren't too many
It was developed years ago and appears to not be supported anymore
Download and Install the Duplicate Image Finder
To start finding your duplicate pictures using this program you'll need to download and install it. To download the program:
Scroll down and click on the download link
In the next window, click "Download Duplicate Photo Finder"
After you download the file, click run
If windows asks if it is ok for the program to make changes to your computer, click yes
On the first window, click next

Click to accept the terms and conditions and click next

It will create a folder to store the program in, click next

The program will be added to your start menu, click next

If you want a desktop icon leave the check mark in place on the next screen. If not, deselect the check box and click next

IMPORTANT: ALWAYS SELECT CUSTOM INSTALLATION ON ANYTHING YOU DOWNLOAD FROM THE INTERNET TO MAKE SURE YOU DON'T GET ADDITIONAL PROGRAMS YOU DIDN'T ASK FOR! On this screen click custom, UNCHECK "Install Results Hub" and click next

If it asks you to install ANYTHING ELSE click no or do not accept and continue on

Click install

How to Use Awesome Duplicate Photo Finder
Once you have Awesome Duplicate Photo Finder loaded it's easy to use.
Search for Duplicate Pictures
First you'll need to decide if you only want to find pictures that match exactly (100%) or if you also want to look for close matches. If you have a lot of exact duplicates you may want to first focus on the exact matches. To do this, click on settings when the program opens and check the box next to "Search only 100% identical pictures".

Next, click on the + symbol to add a folder to the search directory. I chose to search my photos folder only but you could also search your entire computer if you like.
After you select the folder make sure the "scan subdirectories" box is checked so the program will analyze pictures in all folders within the main folder.
Next click Start Search

The program will then run, find all images and search for duplicates. This may take a long time (ie: 30 minutes, an hour, etc) depending on how many pictures you have.
Once the program finishes the search the program will show you how many pictures were found, how many duplicates were found and how long the search took to complete.
Click Ok
Once the program has finished searching you can now view the results. The bottom of the screen shows you the file names and locations for each pair of duplicates while the top half shows you a preview of each pair of duplicates so you can visually see the pictures. Under each picture you can select to move or delete the image.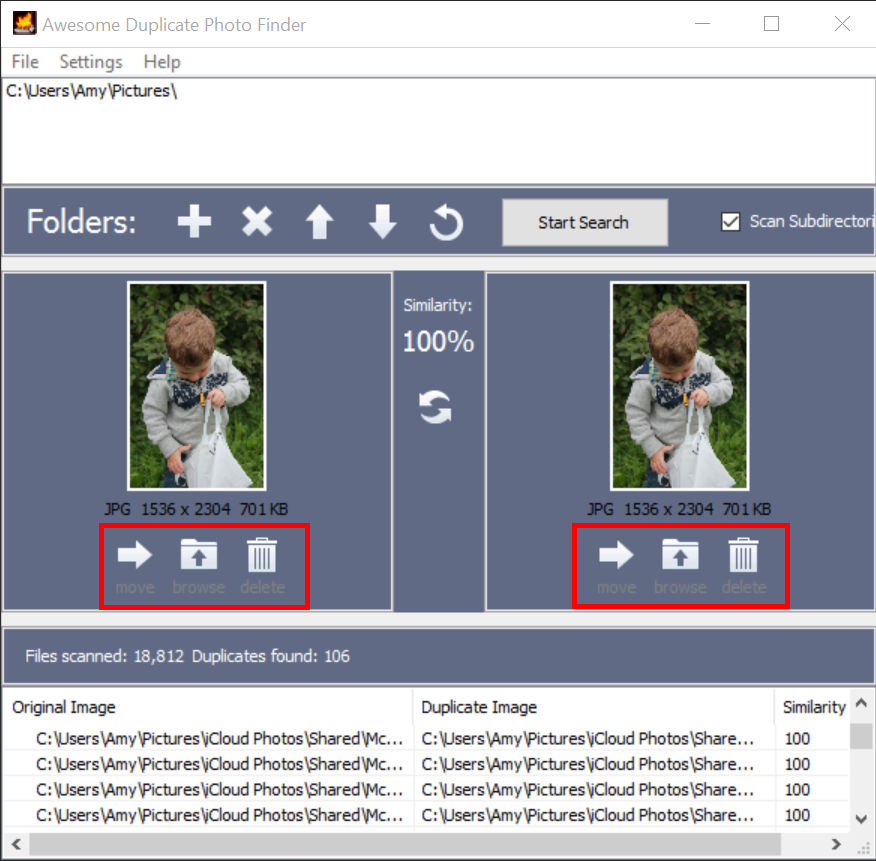 When comparing each duplicate pair look at the picture itself, file size, image location and file name. You can then choose to delete the image on the left or the right, based on your needs. Cycle through the pictures one by one comparing and deleting or moving. This is the only part of the program that was a bit frustrating for me. I was hoping to select a group of pictures and delete several at a time but wasn't able to. So, when I noticed a pattern (ie: an entire iPhone photo stream folder was duplicated) I went to my windows explorer by clicking windows+E (see our post of helpful windows keyboard shortcuts) and deleted that entire folder.  This helped me save some time.
All in all, Awesome Duplicate Photo Finder helped me to locate and delete 2,586 duplicate photos and free up 5GB of storage on my hard drive!  And I didn't think I had any duplicate images!  Do you have a problem with duplicate pictures?  Have you found another solution to finding and deleting the extras?  Leave a comment below. We'd love to hear about other options available.