This shop has been compensated by Collective Bias, Inc. and its advertiser. All opinions are mine alone. #BrushingEvolvedTarget #CollectiveBias 
Technology is advancing every aspect of our lives. It's obvious when we walk down the street and see everyone glued to a cell phone. It's obvious when you see a computer or laptop on every desk in work environments. It's even obvious when you go to pay for your groceries.  There's one area of our lives that technology is helping us that may not be so obvious – healthcare. Bluetooth technology, specifically, is being used by companies to create advanced healthcare devices. Let's take a look at what Bluetooth technology is, some ways it's being used in healthcare and take a closer look at a new Philips product that uses Bluetooth to improve your oral health.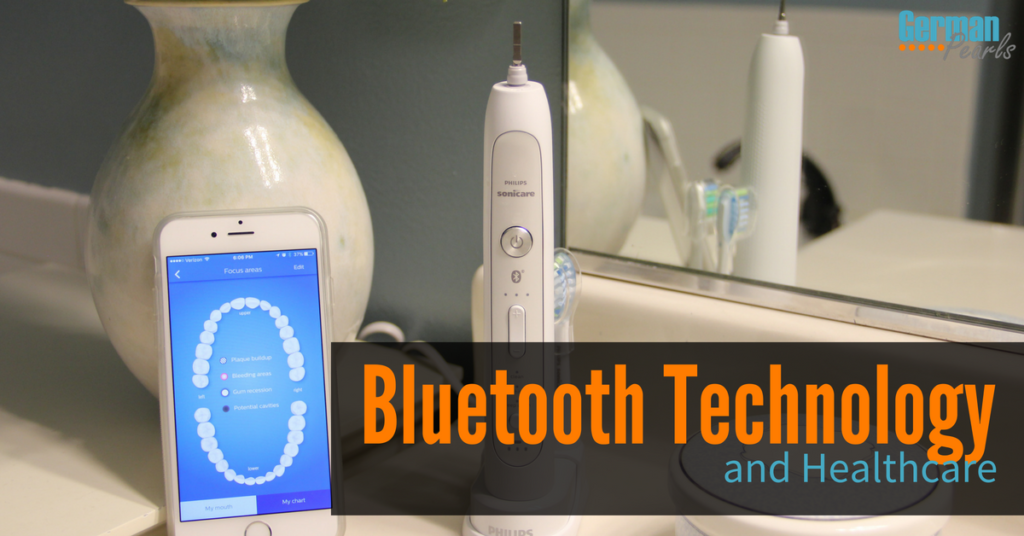 Note: This post may contain affiliate links.
What is Bluetooth Technology?
Bluetooth technology is a method of wireless communication. There are a lot of ways that devices communicate with one another:
Your TV and cable box may communicate with each other via an HDMI cable.
You can make a phone call from your cell phone by communicating wirelessly through a cellular signal.
In your house, your laptop probably connects to the internet through a WiFi connection.
Your phone may connect to your car via a Bluetooth connection.
All of these are different methods for devices to communicate with one another. Think of Bluetooth technology as just one way for devices to "talk" to each other.
Bluetooth technology is used for moving data over short distances. Therefore, some common uses for Bluetooth technology are:
connecting your cell phone to your car's audio system
connecting an audio device to a portable speaker
connecting your cell phone to a wireless headset
Bluetooth Technology and Health
While you may have heard of the bluetooth gadgets we just talked about there are many more available that you may not know about. In particular, the health and medical industry is using Bluetooth technology to revolutionize healthcare. Some examples are:
Philips recently launched a new HealthSuite App which works with their health watch, blood pressure and heart rate monitor, electronic scale and thermometer. All of the devices communicate with the app via Bluetooth technology.
For those that suffer from lower back pain there's a new system for you. It consists of a device that you attach to your lower back, an active video game that helps you stretch and move your back and an app for your smartphone to monitor your progress. The device and app communicate via Bluetooth technology.
There's a patch being developed that can be placed on a hospital patient's arm to monitor vitals and send information to a doctor or nurse's app via Bluetooth. The app can send alerts if there is abnormal activity.
New forms of knee braces include sensors and transmit information to a corresponding app.
A New Spin on Bluetooth Technology
So let's dive in a little more detail to one of these new healthy gadgets and see how Bluetooth can be used to improve your health.
When I was at Target the other day I discovered a whole new section of the toothbrush aisle.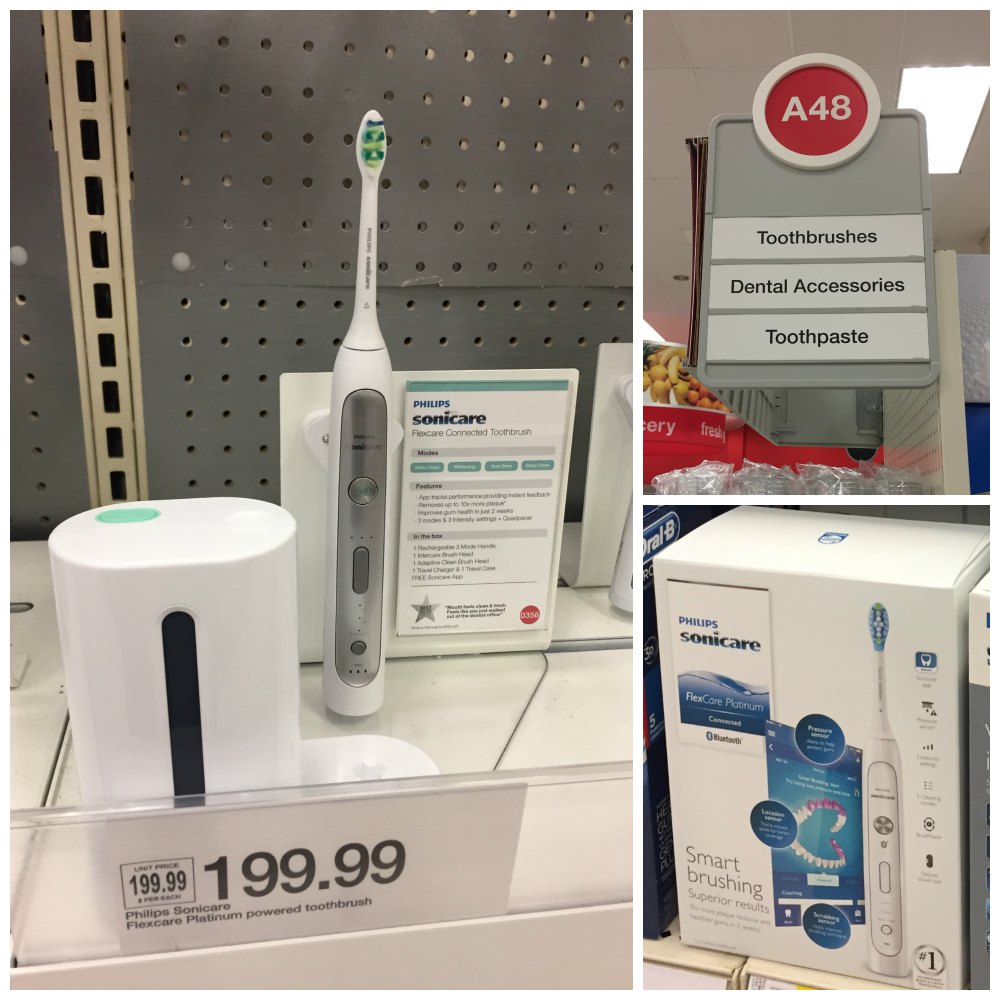 A Bluetooth toothbrush…at Target! So, I ditched the cheap toothbrush from my dentist and decided to get more serious about my brushing. My dental hygienist made several comments at my last visit that I was brushing too hard. What's too hard? What's too soft? How do I know? I'd love to experiment and determine the best method for brushing (I love data after all) but how could I possibly tell if I was a good tooth-brusher?
The Philips Sonicare FlexCare Platinum Connected Toothbrush is smart brushing. Their new spin on Bluetooth technology (hehe) will finally allow me to know whether I've been brushing too hard, too soft, or both! Here's a walk through on how you can use Philips and Bluetooth technology in this cool new product to help maintain better oral health.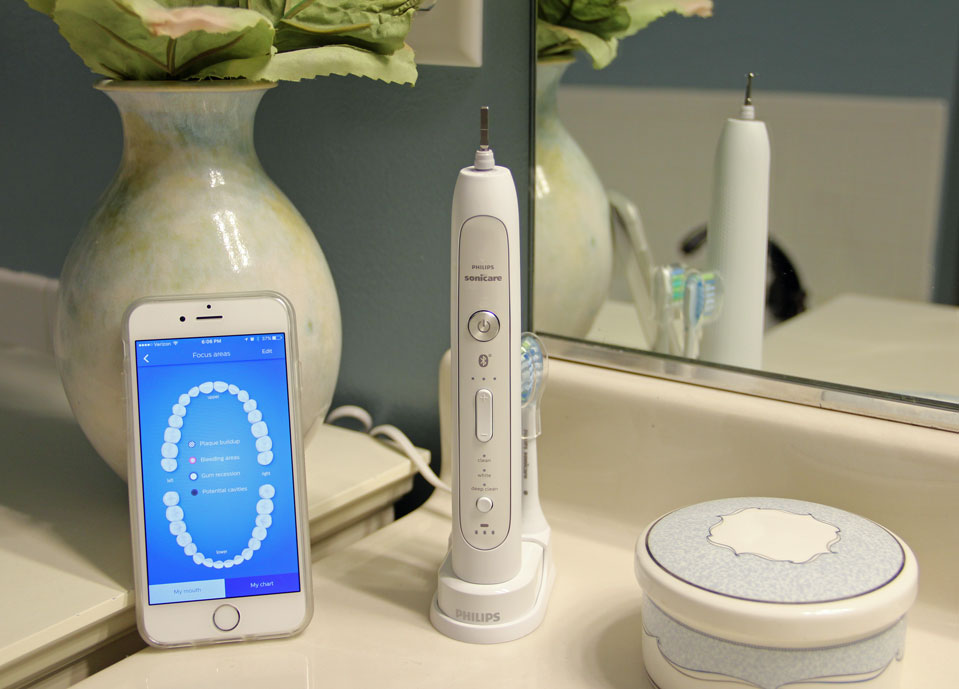 1. Unbox and Charge the FlexCare Platinum Toothbrush
The FlexCare Platinum toothbrush comes with the toothbrush base, a charging stand, two brush heads and a travel case. When you first open up the box you just place the toothbrush on the charging stand and plug it in. It'll take about 24 hours for a complete charge the first time.
2. Connect the App
Once you've got your toothbrush charging it's time to go ahead and get the app. The app is available from both the App Store for iOS and Google Play for Android devices. Download and install the app on your phone.
3.  Connect the Toothbrush to the App via Bluetooth
First make sure you have Bluetooth active on your phone. If you regularly use Bluetooth in your car or with a portable speaker it's probably on already. To double check swipe up from the bottom on an iPhone and make sure the Bluetooth logo is blue. On an Android open the settings menu and under wireless and networks touch Bluetooth to turn it on.
Next, take the toothbrush off the charger and turn it on by pressing one of the buttons.
Then, open the Philips Sonicare app on your phone. The magic of Bluetooth now takes over and "connects" your toothbrush to your phone. You'll know they're connected when you see your toothbrush appear on the screen. Click on the image of your toothbrush to learn some more about how it helps you brush smarter, with better coverage and monitor your brush head. All of this is done by the toothbrush sending feedback to the app via the Bluetooth connection!
Scroll through these screens by swiping to the left. Next click on allow access to my brush.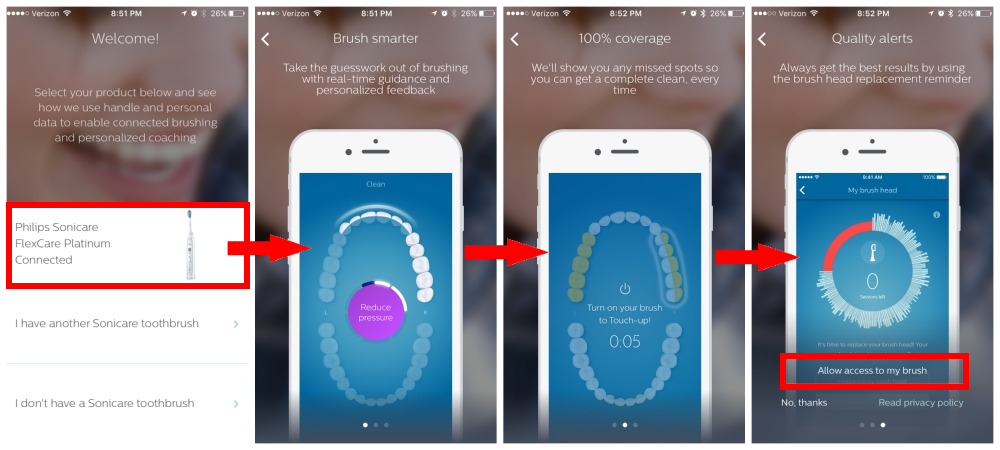 Swipe to the left to learn about how you can track your brushing progress, identify problem areas and set goals for oral health.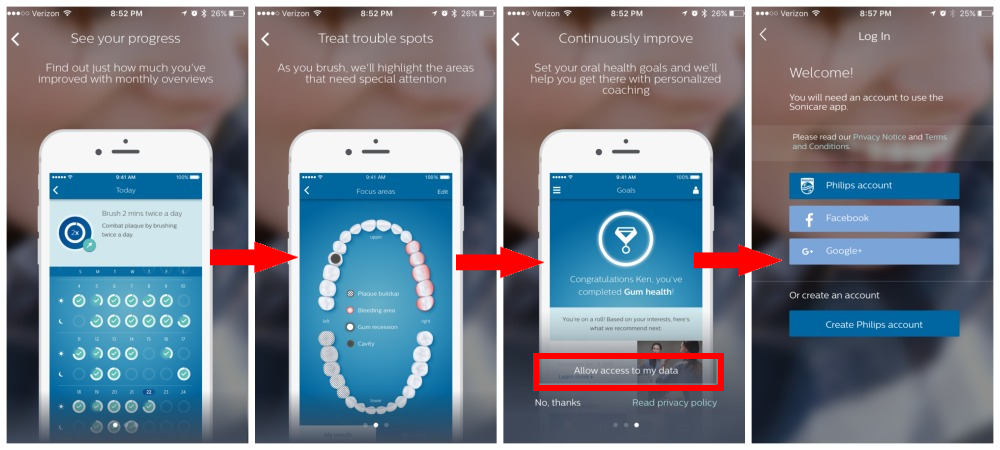 To complete the setup you'll need to create an account. You can use your Facebook or Google+ login or create a Philips account using your email address. After logging in, Philips will ask you some information such as gender and age to customize it.
4. Brush
Once the app is set up you're ready for better oral health through Bluetooth technology! When you're ready to brush simply pick up your toothbrush, open the app and start brushing. The Bluetooth connection between the toothbrush and your phone's app is made automatically!
Once you start brushing the app will show you where to brush. After you've brushed adequately in one area the app will send a notification back to the toothbrush (via Bluetooth) and the toothbrush will vibrate slightly, alerting you to move to the next area. After the first time using the brush and connected app it feels very natural. When two minutes are up the app will ask you to go back and cover the areas you missed – awesome! My cheap brush from the dentist's office never did that! 🙂
5. Set Goals
After the first time brushing with the app it will feel completely natural. Then I recommend setting up goals for yourself. Do you want whiter teeth? Fresher breath? Are you fighting gingivitis? The Philips Sonicare app lets you customize your brushing pattern to the achieve your individual goals. Simply open the app and click goals at the bottom of the screen. Click on your desired goal and the app will get you walk you through how to brush to accomplish that goal. The toothbrush constantly sends feedback to the app of how well you're brushing. The app can then give you advice on how to become a better brusher.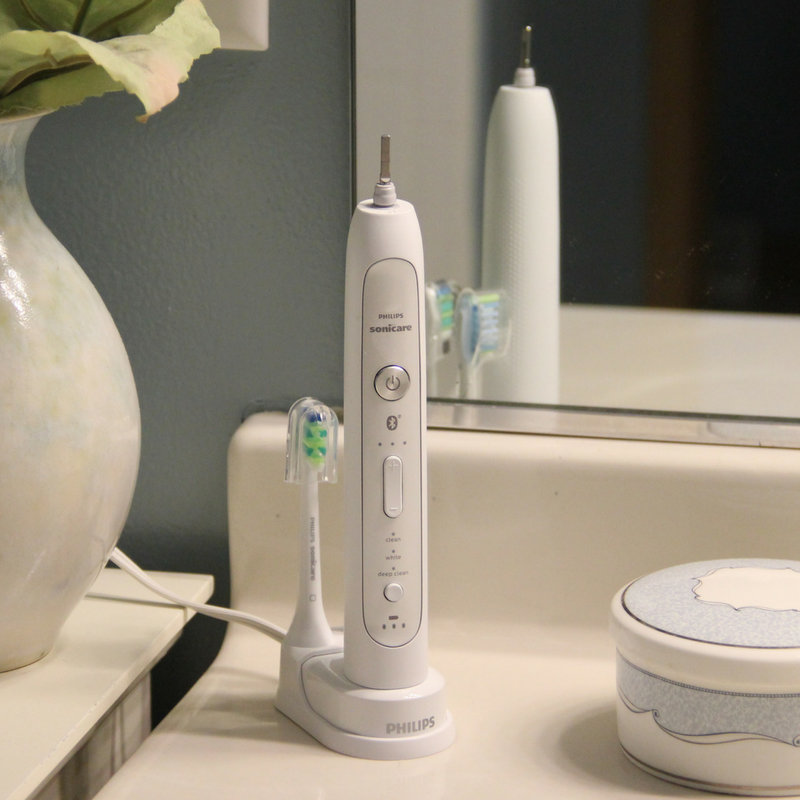 Conclusion
The Philips Sonicare FlexCare Platinum Connected Toothbrush uses Bluetooth technology to help you improve your oral health. No more guessing whether you've brushed long enough, hard enough, too hard or missed a spot. Get actual feedback from your toothbrush to help you keep your teeth and gums healthier. Want to focus on one area – this little gadget can help you do that too. All through the help of Bluetooth technology.
Bluetooth technology is helping me improve my oral health. It's also helping me focus more on physical activity with my fitness tracker. With daily advances in technology I wonder how Bluetooth will be helping me stay healthy in the future. How do you think it will help you? And are you brushing correctly?