If you look up traditional stereotypes for Germans you'll find that they're often very frugal. In fact, Peter over at Deutsche Welle says:
No one tucks away their hard-earned euros quite like a German does.
Well, I definitely picked up the frugal trait from my German ancestors. But it's a frugality that's based on not wanting to waste. So, if I want to upgrade my iPad I'm sure not going to let my old device go to waste. 🙂 I'll do my best to find the place that's going to get me my maximum trade in value for it. But, this can be a time consuming task. So, to help you get the maximum value for your old iPad, I've researched several popular iPad trade in deals for you!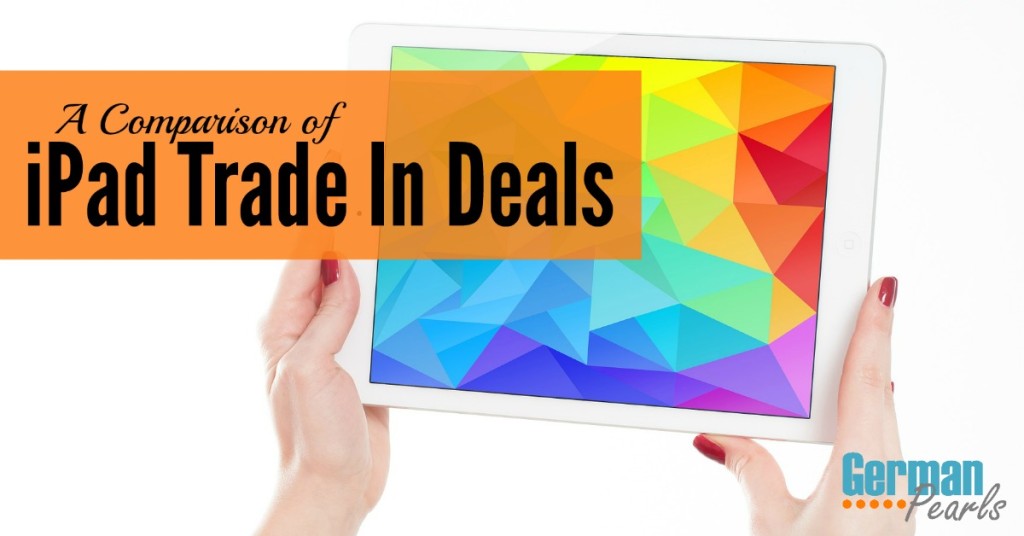 Note: This post may contain affiliate links.
Trade in values are based on the model of your device, how much memory it has, its color, condition, etc, etc, etc. So, without breaking down the value for each different model we chose to only look at a few. From these numbers we can make some pretty safe assumptions about how the price would change based on your models' specifications. We chose to look at the iPad 2, 16GB, WiFi only and iPad Air, 16GB, WiFi only model. All estimates are based on iPads in good to excellent condition.
Some other items to note when looking at the table below:
Estimates shown are based on 11/23/15 website search results.
Prices are shown for 2 iPad models with 16GB of memory and WiFi service only.
Prices / offers will probably be greater for devices with more than 16GB of memory.
Prices / offers will probably be greater for iPads with cellular and WiFi service.
Prices / offers may vary based on iPad color.
Prices / offers will vary based on iPad condition (dents, water damage, cracked screen, etc).
iPad Trade In Deals
| | Amazon | Target | Apple | Gazelle | Best Buy | iCracked |
| --- | --- | --- | --- | --- | --- | --- |
| iPad Air, 16GB, WiFi only | $180-$193 | $120 | $145 | $150-$175 | $146 | $115-$140 |
| iPad 2, 16GB, WiFi only | $93-$103 | $50 | $60 | $60-$70 | $51 | $35-$60 |
| In Store or by Mail | Mail (free shipping) | Mail (free shipping) or In a Participating Store | Mail (free shipping) or In Store | Mail (free shipping) | Mail (free shipping) or In Store | Mail (free shipping) or In Person (if you opt to meet someone in person for immediate payment you'll get less money for your device) |
| Payment Details | Amazon Gift Card | Target Gift Card, Check (mail in only), or Paypal (mail in only) | Apple Store Gift Card | Check, Amazon Gift Card, Paypal | Best Buy Gift Card | Prepaid Gift Card (In Person) / Check or Paypal (via mail) |
The prices shown above may change and, will certainly go down as newer models come out. However, sometimes stores or companies offer trade in specials to entice you to purchase your new device from them. Check out our post on finding great deals to learn out how set alerts and find these promotions.
iPad with Cracked Screens
If your iPad has a cracked screen your trade in value will be reduced significantly, if they even accept it at all. But, there are options for repairing your iPad cracked screen.
Repair your Own iPad Screen
Sherri, over at The Thrifty Artsy Girl, wrote a blog post about how to fix your cracked smartphone screen. While I've never repaired a smartphone screen I have attempted to replace a cracked iPad screen. It was a slow, meticulous process but doable if you're not intimidated by the thought of it. You purchase an iPad screen repair kit which comes with the replacement glass and the tools you need to do the repair. Then, the videos on the iCracked website will walk you through the repair process step by step. Just make sure you put aside a few hours to work on it and you bring your patience with you. 🙂
Have your Cracked iPad Screen Repaired Locally
As I mentioned before, I attempted to repair a cracked iPad screen once. Unfortunately, I ran into some bumps along the way and panicked that I had ruined an expensive device. That's when I found iCracked. I've been very pleased with this company and highly recommend it. Not only do they sell the kits so you can repair your own cracked screens but they offer a service if you'd like a professional to do it for you. And, the best part about it, is that the service associates are flexible. They'll arrange to meet you somewhere – even come to your house – to do the repair! To find a local tech you simply go to their website and fill out a simple form with some details of what you'd like fixed and your contact information and a local tech contacts you. I heard from the rep very quickly, within 30 minutes of submitting the form, and we arranged to meet for the repair that same day. The tech got my iPad back in working order again – crack free!
iPad Trade In Recommendations
So, based on the research, if you have an iPad in good condition and you're a regular amazon shopper I'd trade it in to amazon for a gift card.  They seem to give you the most money for your used device.
If you prefer cash to a store gift card, I'd recommend going with Gazelle.
If you want money in your hands today, I'd use iCracked to trade in your device.
Finally, if your device is damaged or has a cracked screen, I'd check out iCracked and get it repaired before attempting a trade in.
So, if you're looking to trade up your iPad for a newer model hopefully this post has helped you get the most money back. If you find a better deal out there, leave a comment below so we can all check it out!