TechCrunch recently reported that Apple purchased the Workflow app. What is the Workflow app? What does it do? And what's the big deal about Apple buying the Workflow app?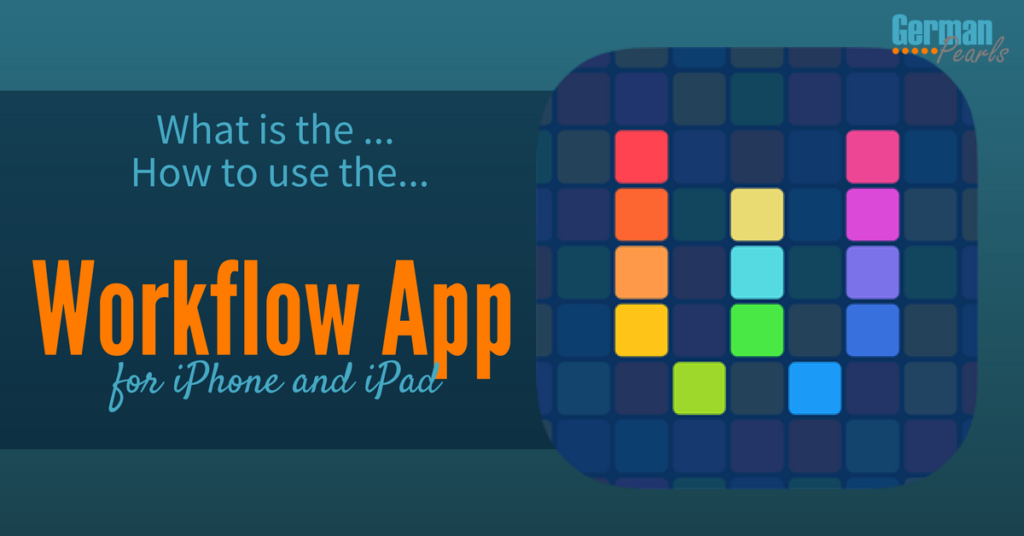 Note: This post may contain affiliate links.
What is the Workflow App?
I love being efficient. I've always attributed that trait to my German heritage. I think it's that I don't like waste and taking extra steps seems like a waste of time and energy. Whatever the reason, I love tools that can help me do things faster and more efficiently. The Workflow app is one of those tools.
The Workflow app is similar to IFTTT (If This Then That) and Zapier, if you're familiar with them.
What is the Workflow App?
It's an automation tool.
What does the Workflow App Do?
It allows you to create shortcuts for actions you take on your iPhone, iPad and Apple Watch.
OK, so that's as clear as mud. I think it's easier to explain the app by walking through a few examples.
Workflow App Examples
Make a Call
Let's say you want to call your mom. You unlock your iPhone, click the phone app, tap on favorites and tap on your mom's contact info to place the call. That's about four taps to make the call. You could also use Workflow to create a shortcut to call your mom. If you add the shortcut to the widget area of your phone you can make that same phone call in one or two taps. You've just saved steps.
Now that example may seem a little silly. I mean what are you saving, fractions of a second? So let's look at a different example.
Pizza Night
Though Workflow app also allows you to create shortcuts or recipes that use more than one app or feature. In my house, Friday night is always pizza night. So let's say every Friday I call the pizza place to order our pizza. But, I also need a reminder to pick up the pizza because my mind is going in 100 directions and I want the timer to tell me when to leave to go get it. So, I could create an action in workflow to help me out. With one click I could create a reminder to pick up the pizza in 20 minutes and place a phone call to the pizza place.
Get Directions to Your Next Appointment
Let's say you're running late to your next appointment. You hate to waste time playing around in your phone, opening your calendar, finding the details, getting the address and opening your map app to get directions to the appointment. So, you could create a workflow which does it all with one tap. You simply set up a Workflow that finds your next appointment on your calendar, picks out the location and gets directions to that location in your map app.
Running Late? Send them an ETA
This Workflow must have been made with me in mind. 🙂 All you do is tap on the Workflow. When your iPhone or watch prompts you simply tell it where you're going and who you'd like to update. The Workflow app will then calculate how long it will take you to arrive and send a message to your contact with your estimated time of arrival.
Workflow App Integrations
Workflow integrates (works with) many popular iPhone apps. The kids team that created Workflow have continued to add more apps to its directory. Here's a list of some of the apps Workflow can work with:
Calendar
Contacts
Reminders
Messages
Phone
FaceTime
Health
Maps
Music
Photos
Clipboard
Print
iBooks
Skype
Wordpress
Social Media

Facebook
Instagram
Twitter
WhatsApp

Note Apps
To Do List Apps
In addition to working with apps, you can also make Workflow do things such as:
Accept input such as text, numbers, contact, etc.
Perform operations such as splitting, matching or replacing text
Perform calculations
Adjust or reformat dates
Save files
Generate QR codes
Create pdf's
Open for a quick look
More Workflow Examples
Here are some more Workflow examples you can create:
Calculate a tip
Read content of a page
Flip a coin
Save an Instagram picture or video
Add items to your favorite to do list app (ie: Trello)
Add items to your Grocery List (in another app or in notes)
Download YouTube videos (see also: How to Watch YouTube Videos Offline)
Track calories or weight
Play favorite playlist
Apple Purchased Workflow, What's the Big Deal?
Companies buy other companies (and startups) all the time. So why was this purchase big news on sites like BGR, Business Insider, CNBC, Forbes and more?
Many times, large companies will buy smaller ones to buyout their competition, or their competition's talent. Sometimes this results in the smaller company then being shut down. As Don Reisinger at Forbes points out:
When Apple buys a company, chances are, the acquisition (or the employees) will be swallowed up, never to be seen again.
But, this is not the case with the Workflow app. Not only has Apple continued to provide the app through the app store, but they've changed it from a paid app to a free one.
So, some are questioning, does this indicate what direction Apple may be taking iPhone and iPad software in the future? Will future versions of iOS bring more automation to Apple's devices? Certainly the Workflow app takes a step closer to that, allowing users to create custom automated tasks.
Conclusion
There's no doubt Apple is impressed with the young folks who created the Workflow app. After naming it app of the year in 2015 they've now purchased the app. The acquisition leaves some wondering if automation tools are a part of Apple's plan for the future. Whether or not this is the case, the Workflow app (now free) allows you to create custom automations on your iPhone or iPad. Reduce multiple tasks (in multiple apps) into a single or few taps on your device. Your workflows are only limited by your ideas and creativity. To get started, try setting up some of our Workflow app examples shown above. Or, simplye browse the gallery in the Workflow app to see sample workflows. Find one you like, simply tap get workflow.
Got ideas for your own workflows or ones you currently use? Leave a comment below – I'm sure we'd all love to hear new ones!