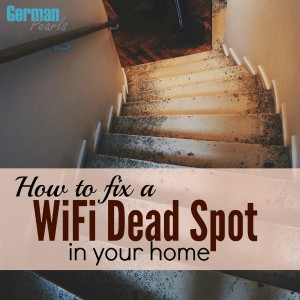 WiFi Deadspot
Do you have a room in your house where the wifi never seems to work? We did, so I did a bit of research and found a quick and easy way to extend the wireless signal in our house.
There are several reasons you may have a dead zone in your house. If you have your wireless router in one corner of the house an opposite corner of the house may have weak signal. Metal, whether in the construction of the house or household appliances, can block wifi signals. Also, other technology such as microwave ovens, cordless telephones, baby monitors and more can interfere with a wireless internet signal.
See Also: 7 Ways to Make a Phone Call without Cell Signal
Use a WiFi Analyzer to Test Your Wireless Speed
So you have an area where you suspect the wireless signal just isn't as good as the rest of the house. It may be obvious where you can't do anything online in that area or you may just suspect a problem based on intermittent issues. If you'd like to test your internet there's a free tool you can use to measure your internet speed. This quick and easy SpeedTest tool by Ookla can be found:
After visiting the site or opening the app, simply click on the begin test button. You will get 3 results: ping, download speed and upload speed. Ookla gives a description and desired ranges for each of these results in this post. Depending on how you're using the internet you should be looking for different values for each of these metrics. As a rough guideline:
Ping: You'll probably notice a slow responding internet if you see 500-1000ms or higher.
Download Speed: Download speed is how quickly you can download items FROM the internet TO your device. If you're trying to stream music or videos you'll want this to be 10Mbps or more.
Upload Speed: Upload speed is how quickly you can upload items TO the internet FROM your device. This number will usually be substantially lower but you shouldn't notice any negative effects unless you are trying to send large files to the internet.
Rather than looking at the absolute values of each of these measurements you can use SpeedTest to compare your service from one room to the next. Run the test in a few different areas of your house to confirm if you have a problem area. It may also help to run the test at different times of the day as you should notice different speeds.
Use a WiFi Booster to Extend Wireless Signal
So now you know you have a deadspot in your house. What are your options? Some options include changing the location of your wireless router or relocating electronics that may be interfering with your wifi signal. If your router is low or in a cabinet you could also mount it outside the cabinet and higher.
I didn't want to display the ugly router in the center of my house so I kept searching for some other options and came across an inexpensive one that worked well for me. (Please note that this post includes affiliate links for a product which I use and am happy to recommend.) I got a NetGear WiFi Range Extender (sometimes also called a wifi booster or wifi repeater) which was able to boost my wireless signal so it now reached the opposite corner of the house!
Think of a wifi booster as a wifi range extender. It picks up the signal from your wireless router and then projects it back out. So, if you place it at the outer limit of your existing wifi signal you can boost that signal further.
In the example below the wireless router extends outward in the green colored circle. However, it doesn't reach the right side of the house. If you place the wifi booster toward the outer limit of the wireless router it will then retransmit the signal and create its own new range (displayed as the gray circle).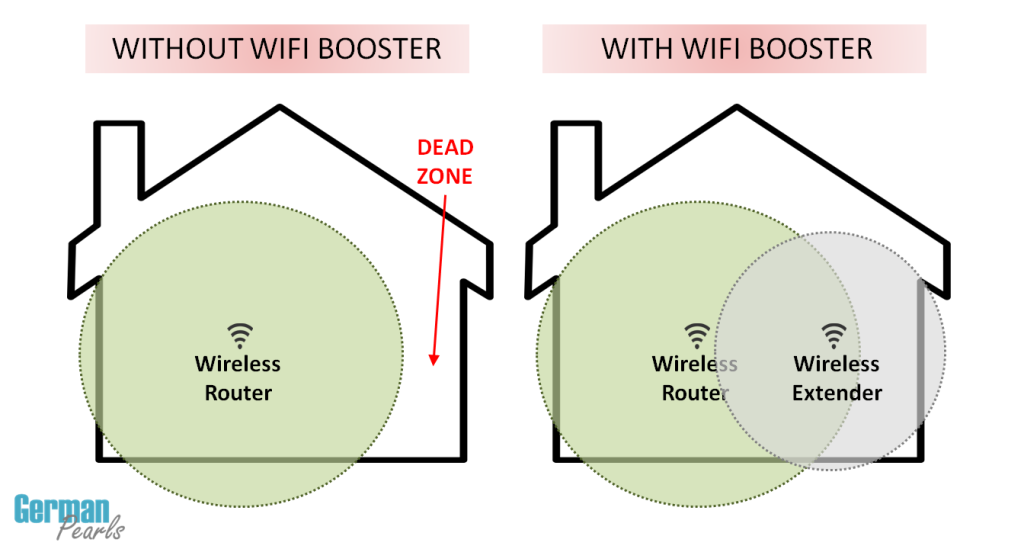 Setting up the Netgear WiFi Range Extender takes just a few simple steps. I had it up and running in less than 15 minutes:
Connect your Wifi Range Extender to your existing wifi router following the instructions in the manual
Find an outlet where you'd like to locate the booster. The location you choose should fit two qualifications:

it should be a location that has good wifi signal from your router
the location should be closer to your deadspot than your wifi router

Plug the Netgear WiFi Range Extender into the power outlet.  That's it! No extra cabling required!
On your device (phone, tablet, laptop, etc) go into your wifi settings and sign in to the wifi using the username and password you created in step 1
Now that you are signed in to both your wifi router and the wifi range extender your device can connect to either device and you'll have wifi signal in a larger area of your house
I had some questions before I purchased the item but have been happy since it's been installed.  If you have questions on the device feel free to contact us or leave a comment below.  Good luck!


Save
Save