There's no doubt about it, I'm frugal.  I love hunting down a good deal.  Reading about German stereotypes I found that this trait is often associated with German people.  I hadn't heard that stereotype before but it makes me feel more sane, as I have some pretty strong German roots. 🙂  Even as a child I would save my allowance and be pretty cautious about where and what I spent it on.  As I've grown older I do like nice things.  You've probably figured out by now that I love all things tech. This definitely includes gadgets.  So, how do I keep my gadget loving side and frugal side happy at the same time? By Finding Good Deals!!!  I do research and ensure myself that I've gotten one of the best possible price I could get for the item.  I've got several tools I use for this and continue to hone my skills.
So, you want to buy a gadget, or a widget, or whatever.  How do you make sure you're getting the best deal? Here are a few tips.  Some of these require some patience so you'll have to weigh your need for immediate gratification against your desire to save money.  Sometimes, if I "need" something more quickly I'll have to forgo a few of these steps so I may not get the BEST possible deal but there are still steps to take to make sure I get a GOOD deal.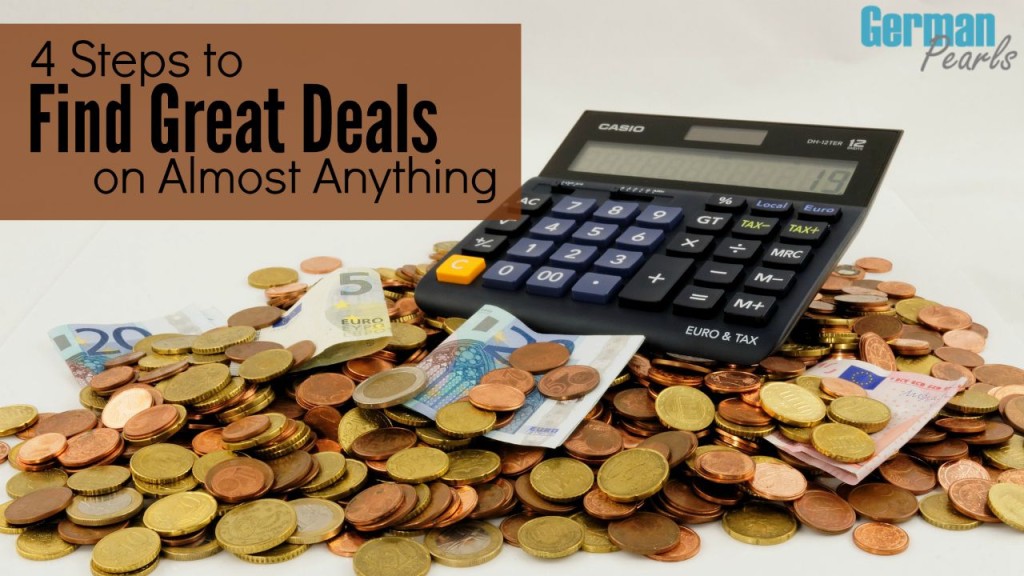 Note: This post may contain affiliate links.
Deal Finding Step 1 – Get an Idea of the Going Rate
These steps can be used (sometimes with slight alterations) for most anything so let's just pick something to use as an example.  How about a pair of bluetooth headphones.  So, I've decided I would like a pair of bluetooth headphones. I've searched online and identified which ones I'd like to buy. (We could probably spend another whole post talking about researching the best brand/model to purchase.)  So, for brevity's sake let's just assume I pick out a pair of Motorola bluetooth headphones that I'd like to buy.  The first thing I need to do is figure out is what the current going rate is for the product.  Some of the sites I'll use for this are:
Amazon – I've found that Amazon usually has one of the most competitive prices and, combined with free shipping and a good return policy, I'll always check them out.
Froogle – This is google's shopping site.  (It may not be called that anymore but I'm so used to that website name I still type it in to get to Google Shopping.)  If you haven't been to Google Shopping before what you'll find is it searches for the product in many different stores and shows you how much you would pay for the item, shipping and taxes.  You can then see what the price is at major retailers and compare them.
MySimon – MySimon is the online price comparison tool (like Google Shopping) I have been using the longest.  According to their site they launched in 1998!! That's pretty old in internet times! 🙂
Price Grabber – Price Grabber is similar to Google Shopping and MySimon in that it will search the internet for the product and bring you back pricing from different stores/sources.
– You can't forget about ebay. If you're set on getting the item new you can set your search criteria in ebay to only show you new items. Or, if you're ok with the item you're purchasing being used, you can look at all offers on ebay and probably get a pretty good deal!  (I'm sure there's a whole post here about ebay as well…but that's for another day.)
Ok, now you've done your research and you have a pretty good idea of the going rate for your headphones. So, let's see if we can get a better deal. 🙂
Deal Finding Step 2 – Look for Coupons
There are probably a few stores that have your headphones at about the same price (I'm sure their computers are working hard to make sure their prices are competitive 🙂 ).  The next step would be to see if there any coupons that would apply to any of these stores.  There are TONS of ways to find coupons and full websites and forums devoted to this topic so this list is by no means complete but here are some resources I like to use:
RetailMeNot – This is a great site to find coupons for different stores.  Say Staples or Target has the headphones I'm looking for at about the same low price.  I can now head over to RetailMeNot, enter Staples in the search field and it will show me some current coupons available at Staples.  It may show coupon codes (for use online), printable coupons (to bring to a physical store) and sales.  Some of the coupons posted may be old or expired but many will include comments from users (ie: if they've had difficulty or how much they've saved) and/or a success rate showing how often they've worked.  So, I would then look for coupons at the stores that had the item for the lowest price anyway
Google / Yahoo Search – For some items, it's also helpful to do a Google (or Yahoo, etc) search.  You can search for the item and the word coupon, discount or deal.  For instance, for our headphone example, I may search for "motorola headphones deal" or "motorola headphones discount". (I feel another post coming on about tips for maximizing your search engine results.)  Sometimes if you search this way you'll get very old deals which pop up.  I try to filter them out by clicking (in Google) "Search Tools" and where it says "Any Time" I'll click the arrow drop down menu and select a shorter time frame, like "Past Month" for example.
Deal Finding Step 3 – Check Deal Sites
There are several sites and forums where  you can find good deals on specific items.  There are a lot of people that have spent years finding deals, they're very good at it and they're nice enough to share what they find to help others.  Here are a few of my favorite deal sites:
A Full Cup – This is site is near and dear to my heart as I spent several months following and participating in their forums.  There are a lot of knowledgable people on this site and they're very good about following all coupon policies, etc and savings lots of money. 🙂  This site focuses more on grocery stores and retail pharmacies but other deals can sometimes be found on here as well.  In visiting their forum section you can focus in on one store or search the entire forum section for a particular product.
Slick Deals – I've been using this forum / site recently and have found excellent posts on here.  Their search function makes it very easy to find a deal for a specific product.  (You can also check out the best recent deals by watching their "Frontpage Deals"…you can find some great deals here…but I'll warn you…it can get addicting!)   Another great function of this site is if you register for an account you can set deal alerts for a certain product like 'Motorola headphones' or something more generic like 'diapers'.
Brad's Deals – This site is similar to Slick Deals in its functionality.
Deal Finding Step 4 – Set an Alert
Ok. So sometimes I get through all these steps and I'm not pleased with the lowest price I've found and I'm willing to wait for a better price.  When this happens I use alerts to let me know when a better deal come along.  Here are some ways to set alerts:
Slick Deals – As mentioned above, when you sign up with Slick Deals you have the ability to set an alert for any keyword you want. You can set an alert for a specific product or a general keyword.
Google Alerts – Of course Google has a solution for this as well!  I often set Google Alerts for a product.  You can set an alert for something like "motorola headphone and deal" for our example and you can get an instant email when a new site or post pops up somewhere with those keywords.
So, depending on how much time you want to invest you can use these tools to help save you money on your next purchase.  For those instant gratification times steps 1, 2 and 3 can be run through pretty quickly and you can feel comfortable you got a good deal.  If you can wait a little longer to make a purchase step 4 will help you get an even better deal.
What are your deal finding secrets?  I'd love to add more to my arsenal…leave me a comment below.